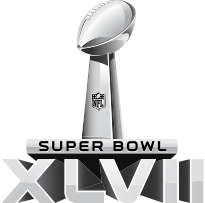 In New Orleans this Super Bowl week, there are plenty of fans sporting 49ers' red and gold caps and jerseys and Ravens' purple and black gear. But there are also thousands of union members—including many from unions in the Greater New Orleans AFL-CIO (GNO)—who proudly display their union label and are making the game possible and the fan experience in the Crescent City run smoothly.
Starting on the gridiron, the players who are battling for the NFL championship are members of the NFL Players Association (NFLPA). They share a bond with the men in the striped shirts—members of the NFL Referees Association. During the past two years, both have been locked out by NFL owners.
The announcers, camera operators, technicians and other hardworking folks who are bringing the game to the big flat-screen TV in your home or favorite watering hole are members of SAG-AFTRA, Broadcast Employees and Technicians-CWA (NABET-CWA), Electrical Workers (IBEW) and Laborers (LIUNA) .
The half-time spectacular isn't a "Hey, kids let's put on a show" kind of deal. The down-to-the-second, choreographed, on-the-field, off-the-field, 12-minute extravaganza is made possible by the skills of Theatrical Stage Employees (IATSE) and the talents of the American Federation of Musicians of the United States and Canada (AFM) and other performing artists.
For the fans who head for the concessions, their hot dogs are served and beer drawn by men and women from Teamsters (IBT) Local 270. They also staff the New Orleans Saints team store.
Don't forget that much of the repair and renovation work on the Mercedes-Benz Superdome that was severely damaged by Hurricane Katrina was performed by skilled workers from the unions of the Southeast Louisiana and Louisiana State Building and Construction Trades councils.
Many of the firefighters, emergency medical personnel and other vital New Orleans city workers, who are ensuring a safe and efficient Super Bowl week, are members of the Fire Fighters (IAFF) and AFSCME. While Amalgamated Transit Union (ATU) members operate many of the buses and trolleys that are shuttling fans around town.
Anyone who's staying at the Loews New Orleans Hotel is enjoying the services provided by UNITE HERE members. Of course, the fans who flew in for the big game got there safely, thanks to aviation workers from the National Air Traffic Controllers Association (NATCA), Air Line Pilots (ALPA), Association of Flight Attendants-CWA (AFA-CWA), Transport Workers (TWU) and Machinists (IAM).
Enjoy the game.