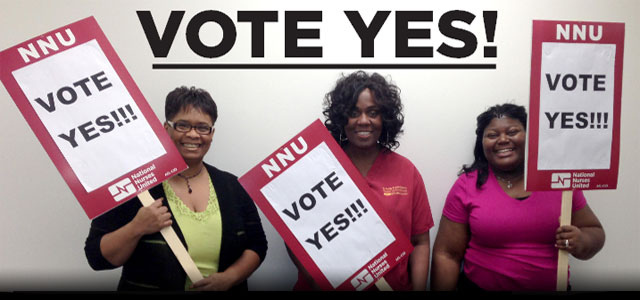 Nurses at Chicago's Jackson Park Hospital recently reached an agreement with hospital officials on a collective bargaining contract, National Nurses United (NNU) reported. The nurses went out of their way to make sure the contract wasn't just about improving their own lives, but that it also focused on improving the lives of their patients.
The nurses, represented by NNU, still must ratify the final agreement, but they are excited that things are moving in the right direction.
"Joining an RN union allowed JPH nurses to stand together and negotiate a contract that respects us as professional RNs. We now have the tools to advocate for our patients," said Jackson Park RN LeShaun Williams.
Diane Hibbler, a registered nurse in the emergency department, said the contract was important because it gave the nurses an actual voice in patient care.
"The people in administration don't have contact with patients, with equipment, with medication," Hibbler said. "This gives us a voice to say what we need....Now they have to listen, they have to respond."
One of the key improvements for both patients and nurses is improved staffing grids that cannot be changed without the agreement of both management and bedside nurses, making sure patients are always cared for with adequate staffing. The contract also increases the number of nurses on each shift based on the special needs of patients. The contract also limits administrators' ability to assign nurses to clinical areas outside their expertise.
A Professional Performance Committee, made up of people from each area of the hospital, will meet monthly to discuss changes that need to be made to improve patient care and quality of life. Hibbler offered the example that African American patients often need natural combs for their hair—and making sure the combs are on hand provides patients with what they need to make themselves presentable for family and friends who come to visit, as well as offers a morale boost.
"Little things [like] that make a huge difference for a patient who is lying in a bed and has been told he or she has an illness and they want to look [presentable]."
The contract was also good for the hard-working nurses of Jackson Park:
"This agreement marks a substantial step forward for Jackson Park patients and nurses, and will be an inspiration for nurses throughout the greater Chicago area," said NNU Midwest Director Jan Rodolfo, RN. "The Jackson Park RNs earned this agreement through their unity and their determination to win these great gains for their patients and themselves."