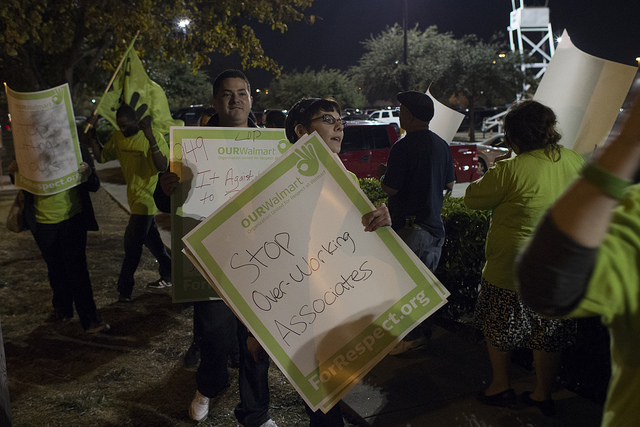 At 5 a.m. local time, workers at a Mira Loma, Calif., warehouse that ships goods for Walmart launched a two-day strike to protest alleged unsafe working conditions and retaliation against workers who are exposed to those conditions. The warehouse is owned by Olivet International, an apparel and luggage company. Some 70% of the products that move through the warehouse are shipped on behalf of Walmart.
Employee Miriam Garcia told The Nation:
I'm scared because I need to work for my family's sake. But I don't want me or my co-workers to keep working in these conditions. It's important that I make it home to my family safe, in good health. I don't want to get injured [at work] like my other co-workers.
In May, workers from the warehouse filed a complaint with the California Division of Occupational Safety and Health, supported by photo evidence, alleging a number of safety violations: unclean drinking water; emergency exits blocked by boxes and merchandise; forklift brakes, seatbelts and horns that don't work; workers loading shipping containers in the dark; triple-stacked and unsecured boxes; lack of ventilation or adequate water amid intense heat; and a risk of workers being hit by forklifts and workers trapped inside trailers as they drive off. The workers also have been requesting higher compensation. The workers say that attempts to remedy the concerns with Olivet were ignored initially, but following the complaint, the company began intimidating the workers, including the installation of surveillance cameras, following workers, cutting hours and implied threats that the workers would be fired.
The strike is the latest in a series of work stoppages at various parts of the Walmart supply chain, including a previous one at the same facility, another in Elwood, Ill., and a rally at a shareholder convention in Arkansas.