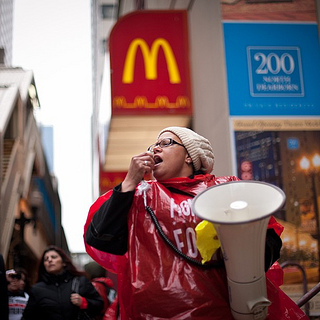 Low-wage workers in seven cities Monday will walk off their jobs in several prominent fast food chains and retail outlets to demand a living wage, the right to form unions and an end to what they say are unfair labor practices.
The strike will come on the heels of a new report released by the National Employment Law Project (NELP). The report says although companies claim these low-wage jobs are a step toward good careers, opportunities to advance are limited for front-line workers in the fast-food industry. industry.
The walkouts will take place in Chicago, Detroit, Flint, Mich., Kansas City, Mo., Milwaukee, New York City and St. Louis, and will include workers from McDonald's, Burger King, Wendy's and KFC and from retail stores like Macy's, Victoria's Secret and Dollar Tree.
Kareem Starks, a McDonald's worker in Brooklyn, says:
When you make minimum wage, you don't have a heck of a lot to lose by speaking out, but remaining silent is not an option because it's nearly impossible to survive on $7.25 an hour.
The strikes are being organized and supported by a wide coalition of labor, faith and community groups including SEIU, Jobs with Justice, 99 Pastors and others. UAW President Bob King says:
It's unacceptable that right now, our fastest-growing jobs don't pay enough for workers to afford rent, food and clothes. If our economy is going to recover, profitable corporations should pay their workers a living wage, and that's exactly what these workers are demanding by uniting.
The NELP report, Going Nowhere Fast, shows the near impossible path to better wages and jobs fast food workers face. It finds that low-wage positions make up the vast majority of jobs in the sector. Front-line positions (cooks, cashiers and other crew members) make up 89.1% of all jobs in the industry and pay a median wage of $8.94 per hour. First-line supervisors make up another 8.7% of jobs in the industry and pay a median wage of $13.06 per hour.
Along with limited managerial positions, franchise ownership remains an even less accessible opportunity for advancement in the industry: nine of the 11 largest fast food chains in the United States require prospective franchisees to have at least $500,000 in net worth and $250,000 in liquid assets. Says NELP Executive Director Christine Owens:
While the industry argues that front-line jobs are a stepping stone to a brighter future for its employees, that's more myth than reality for most fast food workers. The truth is, millions of fast food workers will never have an opportunity to move beyond front-line jobs. That's why it's so critical that instead of empty promises of future possibilities, the industry act to ensure that the jobs most fast food workers occupy provide the wages and benefits workers need to support themselves and their families.
McDonald's CEO Don Thompson yesterday told Bloomberg TV he thinks his company has "always been an above-minimum wage employer." Annie Rose-Strasser at Think Progress dissects that claim and finds Thompson treading on shaky ground. Take a look.