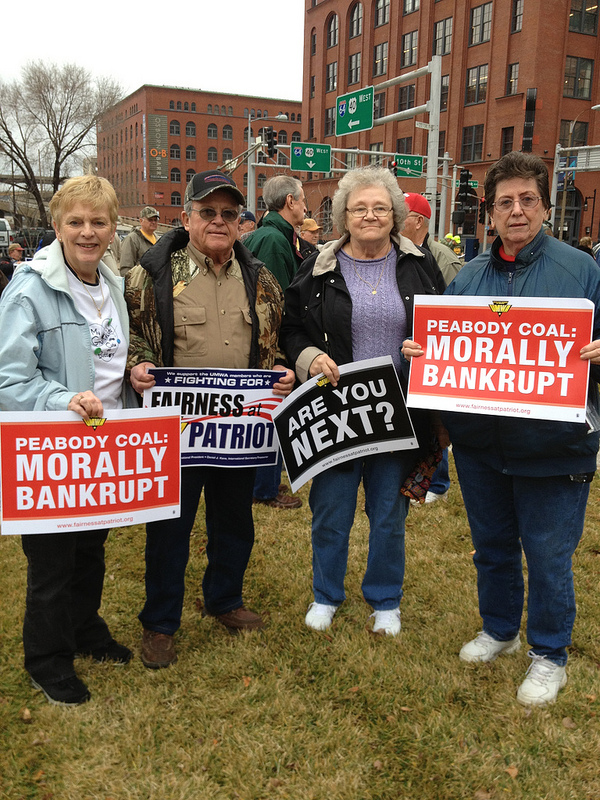 The Mine Workers (UMWA) union just announced it has reached a settlement with Patriot Coal on new terms and conditions of employment that makes significant improvements over what federal Bankruptcy Judge Kathy Surratt-States ordered on May 29, and what Patriot implemented on July 1.
UMWA International President Cecil E. Roberts said:
After several weeks of nearly around-the-clock negotiations, I believe we have reached something that can be taken to the membership for ratification....We have been able to restore, or at least improve upon, many of the most drastic changes that the judge ordered, including in the area of wages, health care benefits, paid time off, pensions and more. In addition, we have negotiated a mechanism that will allow retiree health care benefits to continue.
UMWA announced in a press release the vote will take place Friday, Aug. 16. Some 1,800 active or laid-off members in West Virginia and Kentucky are eligible to vote. UMWA will not release details of the settlement until after those members have had a chance to hear its terms.
"This is only a first step. We will be ramping up the campaign against Peabody and Arch over the next months," said Phil Smith, a spokesperson for UMWA. The UMWA is still insisting that Peabody Energy and Arch Coal meet their responsibilities to retired miners and their families. A rally is planned tomorrow in St. Louis.
"As we've said all along, Patriot really is bankrupt and just does not have sufficient resources to pay for the contractual promises made to retired miners and their families by Peabody and Arch," said Roberts.
"We're back at Peabody because that's where this problem started. Executives at Peabody Energy created Patriot, they failed to give it enough assets to meet its obligations, and we're not going to sit idly by and let miners and their families pay the price."