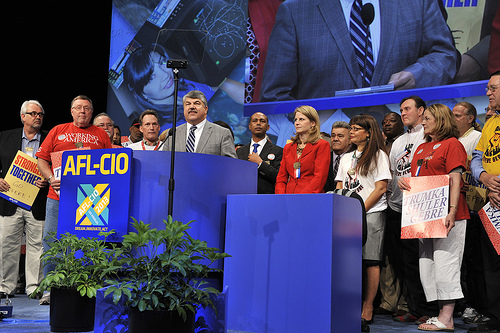 Delegates to the 2013 AFL-CIO Convention today elected a trio of top officers to lead the labor movement to become, said re-elected AFL-CIO President Richard Trumka, "the movement America needs us to be and we must be."
AFL-CIO Secretary-Treasurer Elizabeth Shuler was elected to a second term and, in a classic American success story, Tefere Gebre, a 45-year-old Ethiopian political refugee who immigrated to the United States as a teenager, was elected executive vice president.
In his acceptance speech, Trumka, a Pennsylvania coal miner who rose to the presidency of the Mine Workers (UMWA) and then served as AFL-CIO secretary-treasurer until his election to the top post in 2009, called himself "an example that a man or woman can be carried far by those who came before."
He spoke of his grandfathers who were UMWA organizers, his coal mining father who also served as a union officer and "the union brothers and sisters who showed me the ropes, who taught me about life and unionism, who stood strong with me when I was too young to even know what it meant to stand."
Noting that many of the union members in the convention hall and around the nation share similar legacies and owe much to those who came before them in the labor movement, he said:
It is a gift we can only repay by giving it all—and more—to those who come along with us and after us. That is why we are building a stronger, broader movement. We have a responsibility to lift others up, to give to those in need in this generation and in future generations what has already been given to us. And more.
Shuler's union career began with the Electrical Workers (IBEW) in Portland, Ore., and she has served as AFL-CIO secretary-treasurer since 2009.
She said that strengthening the AFL-CIO's finances—with transparency and accountability—was her major goal when she took office and, like the federation's affiliated unions, the AFL-CIO would have to tighten its belt.
So we scrutinized our finances to the smallest detail. We made tough choices and set priorities. The result is, as of the latest fiscal year, we have a balanced budget. The result is a $22 million turnaround in our net assets....Of course, we are nowhere out of the woods yet. We know there will be challenges ahead.
Shuler also said that developing and launching the long-term campaign to redefine how the public sees unions has made progress and "we must move it forward." The most rewarding—and challenging—part of her job for the past four years, she said, has been engaging young workers in the labor movement and giving them "a sense of belonging and ownership."
I don't have the words to fully describe the feeling when you see the light in a young person's eyes when they realize that their desire to be part of something bigger than themselves is within reach, when they see that they have power. Let's harness that power and bring the old school and new school together in solidarity.
Prior to his election, Gebre—a former director of government relations of Laborers (LIUNA) Local 270 and a member of the Food and Commercial Workers (UFCW) and IBEW—served as the executive director of the Orange County (Calif.) Labor Federation. He was also executive director of Frontlash, the first youth and college arm of the labor movement.
At 14, after walking across the African desert from his native Ethiopia to a refugee camp in Sudan to "escape the horrors of war and a brutal military government," Gebre said he won a "once-in-a-lifetime opportunity to come to America as a political refugee." He told the convention delegates:
At the tender age of 15, I started a brand-new life in this 'City of Angels'....This is not just my story. It's a story of millions who proudly call America home. Documented or undocumented, the immigrant story is what makes this country of ours so special.
Gebre made a commitment to work with the state federations and central labor councils:
To my brothers and sisters in local labor movements, state federations and CLCs, I am one of you. I know how hard your job is, and how important your role is. Each of us has the responsibility to convene the labor movement in our own communities—across unions and sectors and to work in real partnership with allies in the community....I pledge to you that I will always be there to listen, advise and help our CLCs and state federations be the best we can be.