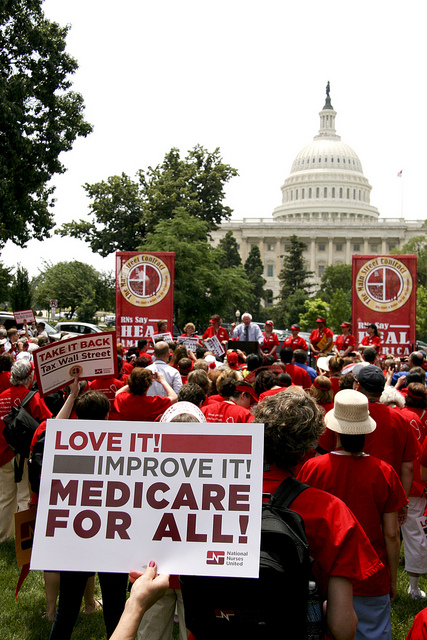 Delegates to the AFL-CIO Convention this afternoon passed a resolution expressing support for the goals of the Affordable Care Act (ACA) but also addressing a number of issues about the ACA's implementation, including the way the ACA treats multi-employer health care plans. The resolution reiterates that the labor movement's ultimate health care goal is health care for everyone under a single-payer model.
The resolution calls for preservation of high-quality coverage under multi-employer plans. It also calls for greater employer responsibility, especially in regards to part-time workers. Sean McGarvey, president of the AFL-CIO Building and Construction Trades Department (BCTD), said the resolution, "Points out the key facts that must be addressed by the administration and if needed, by Congress."
AFL-CIO President Richard Trumka called the issues raised by the resolution ones of "fundamental fairness," including if low- and moderate-income union members and their collectively bargained health care plans will be able to benefit from the same premium support that big insurance companies will receive and if they will have to pay fees to subsidize big insurance companies. There also are concerns that smaller employers will be able to get away with taking health care away from workers while paying no penalty.
Laborers (LIUNA) President Terry O'Sullivan, who endorsed the resolution, told the convention delegates that without changes to the way the ACA is implemented, there are likely to be "unintended consequences" that will hurt workers' health care coverage.
It needs to be changed and fixed now....We will work with the president to do everything we can to fix the Affordable Care Act....We want it fixed, fixed, fixed.
AFT Secretary-Treasurer Lorretta Johnson called the resolution "a road map to making the Affordable Care Act a success" and called the ACA, especially in the way it is being implemented by the federal agencies involved, "a work in progress." She also said many AFT members, including para-professionals, adjunct college professors, nurses and public employees, have had their hours cut to under the 30-hour week threshold they must work before ACA requires employers to provide affordable, comprehensive health care coverage or pay a penalty.
Trumka did tell the delegates that "the labor movement is engaged in ongoing dialogue with a number of government agencies regarding implementation of the Affordable Care Act—especially the way it treats collectively bargained multi-employer funds."