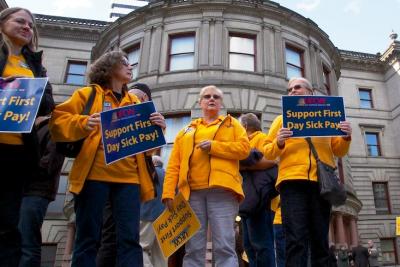 In 2011, Connecticut became the first state to require employers to provide paid sick days for workers, including part-time employees. At the time, extreme pro-business interests in the state ran through the common, yet tired, arguments about paid sick leave in efforts to stop the law from passing. After 18 months of the law being in effect, researchers Eileen Appelbaum, of the Center for Economic and Policy Research (CEPR), and Ruth Milkman, a professor at CUNY, surveyed more than 250 employers in the state to determine the effects of the law. The results of the study pretty soundly reject the conservative arguments against paid sick leave.
CEPR's Teresa Kroeger said of the study:
The authors found that the law had minimal effects on businesses. A large majority of employers reported that the law did not affect business operations and that they had no or only small increases in costs. Businesses most frequently covered absent workers by assigning the work to other employees, a solution which has little effect on costs. Just 10% of employers reported that the law caused their costs to increase by 3% or more.
The key findings of the study include:
Employee turnover was reduced 3.3%.
Sick employees coming to work sick was reduced 18.8%.
Illness was spread 14.8% less often than before the law.
Productivity increased 14.9%.
Morale, motivation and loyalty increased among employees (according to their employers).
Payroll costs increased by 3% or more for only 10% of employers.
Only 10.6% of employers reported reducing employee hours because of the law.
Only 15.6% of employers reported increasing prices because of the law.
Only 3.4% of employers reported reducing operating hours because of the law.
Only 1.3% of employers reported reduced quality of service because of the law.
Only 1.0% of employers reported reducing wages because of the law.
A strong majority of employers were "very supportive" (39.5%) or "somewhat supportive" (37.0%) of the law a year-and-a-half after it went into effect.
The law covers about 400,000 workers
The law had minimal impact on employers that already offered paid sick days.
Little abuse of the system has been reported by employers.
Paid sick day coverage increased from 88.5% of employers to 93.7% that offer five or more paid sick days annually.
The number of paid sick days offered to all employees rose from an average of 6.9 days to 7.7 days.
About two-thirds of eligible workers used paid sick days, with an average of four days used per year.
Unionized employers were half as likely to report cost increases because of the law (compared to nonunion employers).