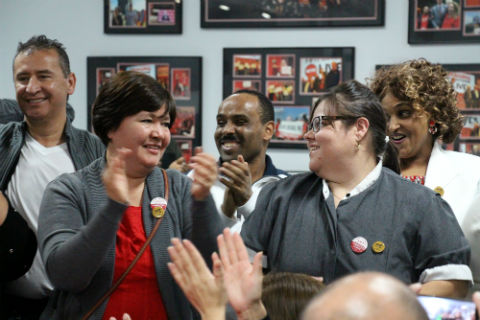 The Trump International Hotel Las Vegas has filed objections to a vote held by their employees, nine days after a majority of workers at the hotel have voted "YES" to be represented by the Culinary Workers Union Local 226 and the Bartenders Union Local 165 of UNITE HERE.
The Trump Hotel Las Vegas is required by federal law to bargain with the union, even though they have filed objections, and the Culinary Union calls upon the company to bargain a fair contract immediately.
"We are not surprised that Trump Las Vegas management have filed objections to the outcome of a free and fair union representation election won by their workers who want a union," said Geoconda Arguello-Kline, secretary-treasurer of the Culinary Union. "Trump Hotel Las Vegas managers have been accused by the federal government of violating labor laws. They want to avoid hearing Donald Trump utter his trademark 'You're fired.'"
"Mr. Trump has said repeatedly that he expects and insists on being treated fairly as he campaigns to be the next president of the United States of America," said Jeffrey Wise, a food server at the hotel, "I also want to be treated fairly—my coworkers and I participated in a democratic election process—just like the one Mr. Trump is preparing for right now."
"We voted yes to make our jobs good jobs with fair wages and job security," said Celia Vargas, a housekeeper at the property. "We won that vote, so our voices and votes should be respected."
Trump Las Vegas workers voted in a National Labor Relations Board election on Dec. 4 and 5, 2015, at their hotel. More than 500 employees of the hotel are in the union's bargaining unit and were eligible to vote. This victory for workers at the luxury non-gaming hotel, co-owned by businessman Donald Trump and casino owner Phillip Ruffin, came nine months after workers at the Trump International Hotel Toronto voted to join UNITE HERE, and one week after the Trump Toronto workers ratified their first contract.
Other non-casino hotels on the Las Vegas Strip that are union and have union benefits: Four Seasons Hotel Las Vegas, Elara Hilton Grand Vacations, Hilton Grand Vacations Suites on the Las Vegas Strip, Hilton Grand Vacations on Paradise and Hilton Grand Vacations Club at the Flamingo.