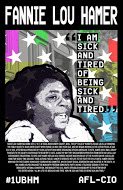 As part of our celebration of Black History Month, we are profiling past and present leaders in the intersecting movements to protect and expand the rights of African Americans and working families. Along with highlighting important leaders of the past, we have created some amazing original art to help commemorate people who made a difference not only in their own lives, but in the lives of millions of their fellow Americans. And now you can own a print of one of these works of art. For free!
All you have to do to be entered into the drawing to win one of the prints, which include Fannie Lou Hamer, Bayard Rustin, A. Philip Randolph and Ella Josephine Baker, is text the code "BLACK" (for Black History Month) to 235246. There are 100 posters that will be awarded randomly to those who text by the deadline at the end of February. Sign up to win one of these powerful posters today!
No purchase, payment or contribution necessary to enter or win. Contributing will not improve chances of winning. Entries must be received by 11:59 p.m. ET Feb. 28, 2015. Enter by texting "BLACK" to the number 235246 (standard data rates may apply). One hundred (100) winners will receive the following prize: AFL-CIO Black History Month poster. Winners will be selected randomly from the list of people who text "BLACK" to the number 235246. Odds dependent on number of entries. Sweepstakes open only to individuals who are 18 years or older. Limit one entry per phone number. Sponsor: AFL-CIO, 815 16th St., N.W., Washington, DC 20006.
The four posters you can win, linked to our profiles of the subject, listed alphabetically: