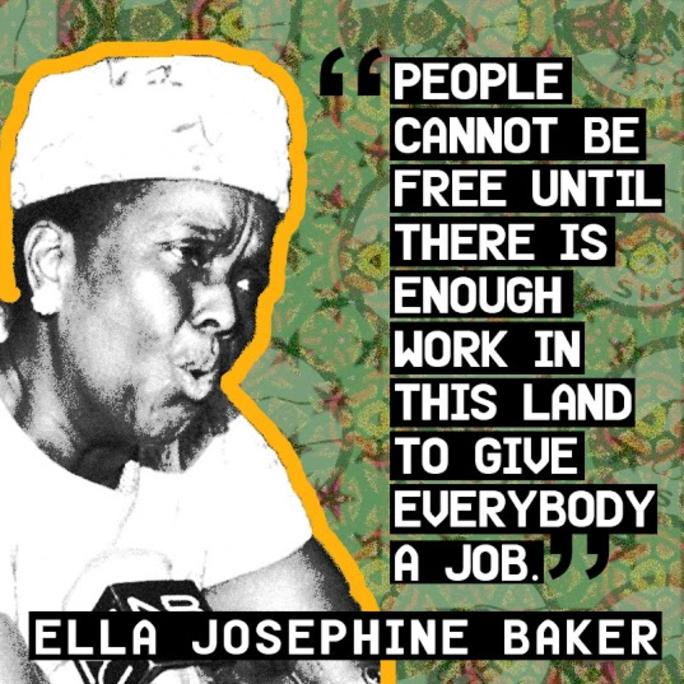 During Black History Month, we will be profiling past and present leaders in the intersecting movements to protect and expand the rights of African Americans and working families. We'll highlight both important leaders of the past and those who are continuing the legacy of those strong leaders who laid the foundation for the present. Today, we take a look at Ella Josephine Baker.
Baker, a granddaughter of slaves, was born in Norfolk, Va., in 1903 and moved with her family to North Carolina as a young girl. She studied at Shaw University in Raleigh, N.C., where she passionately challenged and organized around unfair school policies. In 1927, she graduated as class valedictorian then moved to New York to engage in social activism.
There, she joined the Young Negroes Cooperative League, a group dedicated to developing black economic power through collective planning. In 1940, Baker began working with the NAACP as a field secretary and served as director of branches from 1943 through 1946. She also worked with several women's organizations. 
In 1957, Baker moved to Atlanta to help organize the Southern Christian Leadership Conference (SCLC), a new organization created by the Rev. Martin Luther King Jr. Baker left the SCLC in 1960 to help organize with a group of college students and activists in Greensboro, N.C. The students sparked a series of peaceful protests at a F.W. Woolworth store lunch counter that would gain national attention and also spark resistance across the South.
With her passion and expertise, Baker helped the students create the Student Nonviolent Coordinating Committee (SNCC), which played a major role in the 1960's civil rights movement.
Ella Josephine Baker was committed to economic justice for all people and once said:
People cannot be free until there is enough work in this land to give everybody a job.
We will continue with Black History Month labor profiles throughout the month. Don't forget that you can win one of 100 Black History Month posters by texting the code "BLACK" (for Black History Month) to 235246.