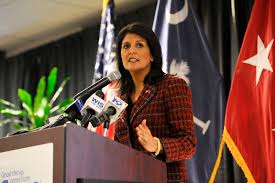 South Carolina Gov. Nikki Haley gave the Republican Party's response to Barack Obama's State of the Union Speech last night. The rebuttal is often used as a way to introduce rising stars on the political scene to a national audience, so clearly, Republican Party leaders think Haley has a bright future. The problem is that her past isn't that bright. Her record as governor of South Carolina is the wrong kind of agenda for working families. Here are three key things you should know about that that show how wrong Haley's job record is:
1. Misplaced priorities leading to billions in corporate giveaways: While the state, under Haley, has slashed college spending and the state Supreme Court has said that the state is failing to provide minimally adequate education to children in poor school districts, Haley has given billions to big corporations who have provided a limited number of new jobs in the state. According to one estimate in 2013, four companies got tax breaks, grants, and other incentives of about $800 million. Those companies created about 8,000 jobs.
2. The jobs Haley's policies attract to the state are low-paying jobs: More than half of the jobs that have come to South Carolina under Haley pay less than $15 an hour, one of the highest rates of low-paying job growth in the country.
3. Undercutting public investment and bringing in low-paying jobs has hurt quality of life for South Carolinians: As much as Republicans and Haley crow about their accomplishments in the state, South Carolina ranks near the bottom nationally on a wide range of measurements of health and quality of life, such as infant mortality, drug deaths, and preventable hospitalizations. Haley's strong opposition to workers' rights is a key component of many of the state's low rankings.
The Institute for Southern Studies goes into more detail about Hailey's terrible jobs record, which is the same old "low-road, low-wage" strategy packed with handouts to corporations at taxpayers' expense.