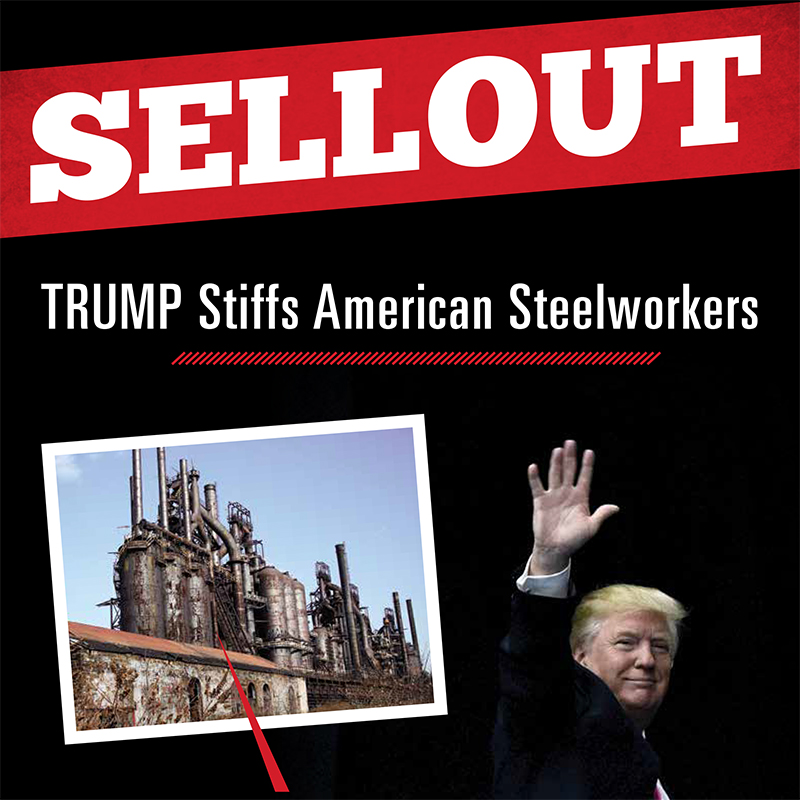 At the second presidential debate, Donald Trump asked the American public to "look at what's happening to steel and the cost of steel, and China dumping vast amounts of steel all over the United States, which essentially is killing our steelworkers and our steel companies." We did and so did Newsweek. The report, published last week, showed us yet again that all Trump does is run his mouth and pad his pockets. The Newsweek report found Trump used cheap Chinese steel and aluminum in two of his recent construction projects and went to great lengths to cover his tracks. Donald Trump turned his back on the U.S. steel and aluminum industries but, somehow, is claiming to be its savior. Trump can't be trusted and has given hardworking Americans yet another reason to cast their ballot for Hillary Clinton.
Here's what else we learned from the report:
Donald Trump used Chinese steel and aluminum. The United States has a long history of producing high-quality steel and aluminum, but Trump chose Chinese manufacturers in at least two of his recent construction projects. The Trump International Hotel Las Vegas and the Trump International Hotel & Tower Chicago both used tons of Chinese metals.
The origin of the steel used was obscured. The origin of the steel used to build the Trump hotel in Las Vegas was hidden through a tangle of "various corporate entities, including holding companies registered in the British Virgin Islands," a popular location for offshore entities who place a premium on, ahem, discretion.
Trump spent at least $350 million on Chinese aluminum. Newsweek estimated Trump used 207,000 feet of Chinese aluminum for the Trump hotel in Chicago. Conservative estimates based on pound per foot means at least $350 million in sales went to a subsidiary of a Chinese aluminum manufacturer. This, when the American aluminum industry is collapsing. In the past two years, "more than half of the country's aluminum smelters in states like Ohio, West Virginia and Texas have closed as a result of being undercut on price by competition from overseas."
Chinese aluminum companies used predatory pricing. Trump purchased the aluminum used in the Trump hotel in Chicago "curtain walls" through entities that sold the aluminum products "below the cost of production or the amount charged in China." This means American aluminum companies couldn't possibly compete with foreign companies "willing to take losses on the sales of their building materials in hopes of driving companies in the United States out of business." Patriotic.
Trump's use of Chinese steel and aluminum is at the expense of America's workers. Trump doesn't operate a publicly traded company, and he has no fiduciary obligation to shareholders. His decisions are all about higher profits for himself and his family at the expense of American producers and their employees.
Trump pays his Chinese partners. Or at least there aren't any reports of Chinese steel or aluminum companies suing to be paid. Unlike in the United States, where workers have time and time again had to sue Trump in order to receive a partial payment for completed jobs.