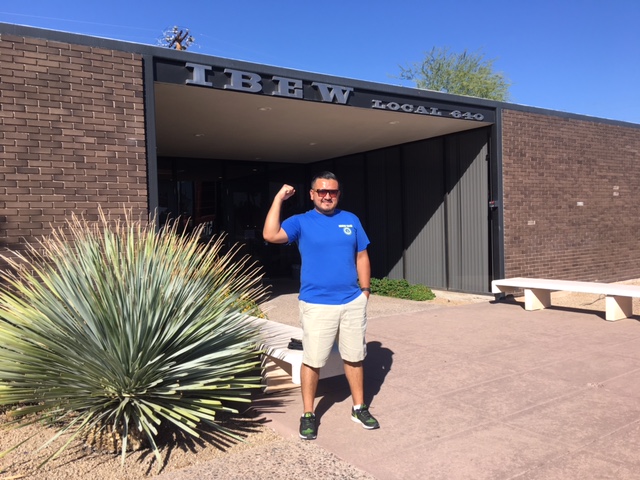 Rene Cruz, an election volunteer and Electrical Workers (IBEW) Local 1245 organizer and steward is out in Arizona working to retire Sheriff Joe Arpaio. Cruz sent us some updates from his Bazta Arpaio campaign log this week. Here are some highlights:
We continue to get a lot of support to defeat Sheriff Joe Arpaio. Pledge cards are on the rise, and the number of people who are willing to give their pledge is growing. I truly believe this is the end of the term for Arpaio.
Everyone understands Arpaio is a man who has been doing the things that Donald Trump is saying he will do. This is a man who creates a separation of the people. Intimidates the people of Arizona by conducting raids on hardworking people. Also separates families and has refused to give his officers a $1 raise to shift these funds to keep Tent City.
We also are pushing for Prop. 206—this is going to raise the minimum wage to $10 per hour by 2017 and to $12 per hour by 2020 by providing gradual increments. Helping the community by explaining what is at stake and helping them vote is what keeps us moving. We are definitely making a difference in Maricopa County.
------
This week was an exciting week for us. We kept the focus on volunteer recruitment and knocking on doors. Our motivation came from the previous week, when we knocked on 5,800 doors. We are getting close to Election Day, and we need to move many ballots out of people's homes.
This campaign has brought so many people together. We were joined by activists from all over, community leaders, faith leaders, labor unions and the LGBTQ community. After the block party, we went to a gay bar crawl, where we passed out "Stop Arpaio" stickers and focused on asking people to vote and to wear a sticker showing their support. It was amazing to see so many people on our side. We went to three different places and, as people walked by, we could definitely see our presence. More than half of each establishment was wearing stickers. The response was so overwhelming that we ran out of stickers to give out.
-----
On Sunday, we heard from labor leaders all over the country. Our friend María Elena Durazo, UNITE HERE general vice president for immigration, civil rights and diversity, addressed the community and also shared AFL-CIO Executive Vice President Tefere Gebre's story about coming to this country. We heard Tefere speak about the issues on immigration that affect our union brothers and sisters. We also got to hear speeches from Arizona AFL-CIO Secretary-Treasurer Rebekah Friend and Association of Flight Attendants-CWA President Sara Nelson. Delbert Hawk, president of IBEW Local 640, also attended the event with his family and friends. It was a fun weekend. We worked long 10- to 14-hour shifts starting on Friday, but it was all worth it.
The report on Sunday night showed we knocked on more than 13,000 doors over two days, and we had more than 500 volunteers. This is the people coming together, and this is what solidarity looks like. Two more weeks and I can't be more excited to be working on this campaign to see both Trump and Arpaio defeated!