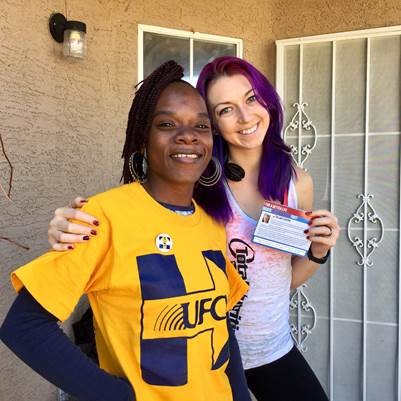 It's morning at the the Heat and Frost Insulators union hall in Las Vegas. A gigantic American flag hangs above a room full of folding chairs and makeshift office tables. Piles of manila envelopes line the tables alongside multicolored fliers, stacks of bottled water and a countdown sign announcing the days left before the election. While activists wearing T-shirts with Hillary Clinton's "H" symbol and union logos arrive, a buzz of conversation begins to fill the hall.
People greet each other with hugs and high fives, talk about the latest "Saturday Night Live" skits about the election, and read aloud the most outlandish tweets and headlines. The room is quickly filled with feeling of hope, optimism and excitement about what the impending results of the Nov. 8 election will have for working people in Nevada—and across the country.
This group of people—along with the other volunteers like them in the Las Vegas metro area—know what's at stake. They know this is an election that will determine the trajectory of the middle class and with that, the country. That's why every day they hit the ground running, knocking on doors and talking directly with people to make sure they are empowered with the information they need when they step into the ballot booth.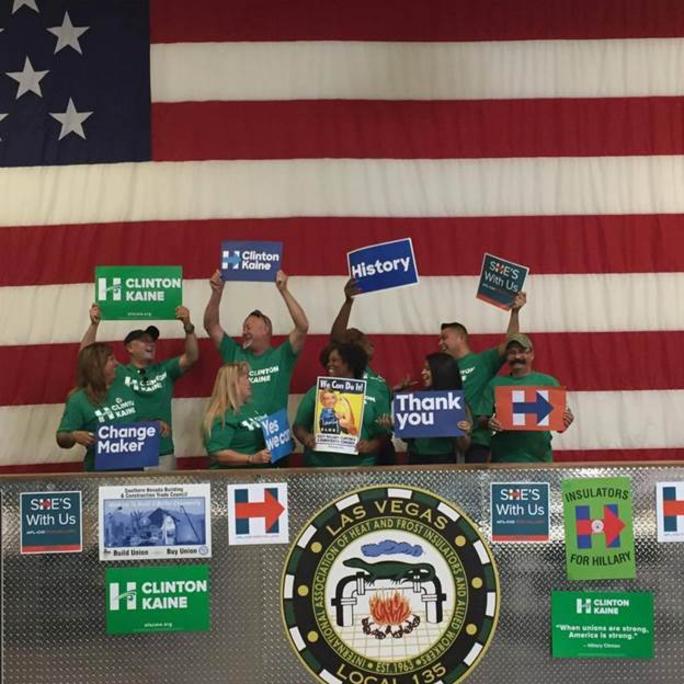 And while the rest of the world has their eyes on the race between Hillary Clinton and Donald Trump, these union volunteers worry the obsession with the presidential election can too often blindside voters from the other, down-ballot races that can have a huge impact on local working families. The Nevada Legislature has a recent history of attacking these very families. Although they only meet for 180 days every other year, elected officials lashed out with a full-fledged attack on workers' rights from day one last year. And the labor movement has been fighting back. Nevada's Senate race is a game-changer for America.
On one side, there is Joe Heck, a congressman who wanted to hold the federal government—and the public servants who serve our country every day—at ransom in order to defund Planned Parenthood. He supports trade agreements that would undoubtedly take America's jobs overseas, despite the fact many families in Nevada are still trying to recover from the 2008 recession that brought many in the state to their knees.
As Nevada attorney general, Catherine Cortez Masto, the democratic candidate for U.S. Senate, learned that the employees who worked so hard for her and the people of Nevada had to take a pay cut during the recession. She knew she couldn't just sit on the sidelines, so she went home and explained to her family that she needed to take a voluntarily pay cut, too. This sentiment of solidarity and service happened again for Cortez Masto when Harry Reid announced his retirement; she knew she couldn't sit on the sidelines for hardworking Nevadans. And that's why she's running for Senate and has won the endorsement of the AFL-CIO.
Masto comes from a union family and has a long, proven history of taking a stand against Wall Street and sticking up for working people. She knows people are stronger when they are able to come together in solidarity. She supports collective bargaining and equal pay for equal work and knows a thriving middle class only makes America stronger. It's Catherine Cortez Masto's photo that is printed on the stacks of brochures lined up in the warehouse dim corners, outlining why she supports Nevada workers.
Union volunteer leads gather small groups of people together, coordinating locations, drivers and reviewing the most important issues for the campaign trail: A living wage, paid time off, a strong middle class and a better life for people regardless of what they look like and where their family comes from. Veteran canvassers naturally pair with those who are new to the work, sharing stories of past campaigns and elections, grabbing them extra water bottles from the stack along the wall and explaining why this work is so incredibly important. And just like that, the small groups break away, heading out to the blustery, bright day with manila folders and water bottles in hand. And they are off to knock on doors to talk with as many voters as they can.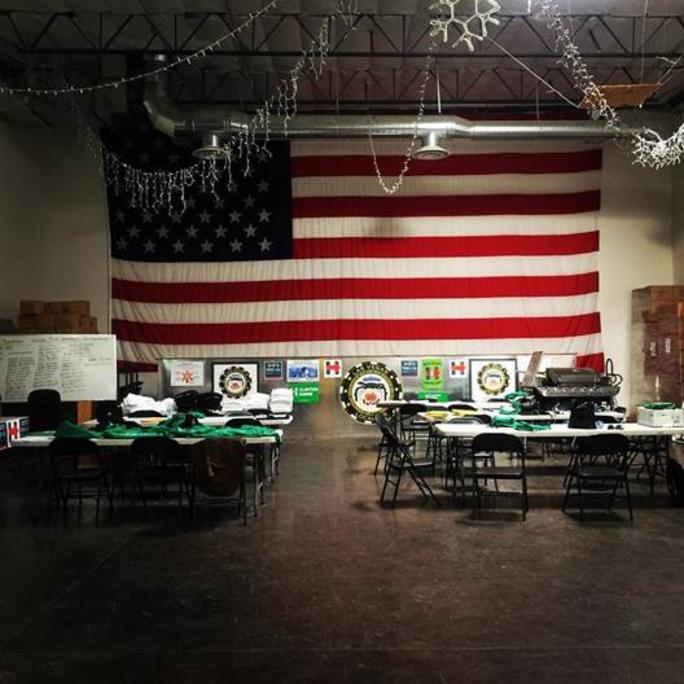 Later on, they will trickle back into the office, filling it once again with laughter and chatter. They will drop off their packets, now slightly covered with the same thin layer of desert dust that will be found in the crevices of their shoes, turn in the results of their hard-worked day and welcome others back by swapping stories. As they will head home to rest up and connect with their friends and family, the orange sun will set over the dark red mountains while the infamous Las Vegas Strip will twinkle with lights in the foreground. And tomorrow, the day will start all over again, a testament to the passion and drive of this movement and the volunteers who are dedicating their whole lives to making the country a better place, until the large box with a sign that reads "completed" scrolled in black Sharpies is full of packets, until the sneakers in the room all have a hue of dusty orange and until that sign on the make-shift table reads "0 days until the election."
Rosemari Ochoa is a communications specialist at AFGE, an Office and Professional Employees (OPEIU) member of Local 2 and a member of SEIU 500. She is currently based in Henderson, Nevada, where she is working for the Working America Campaign.