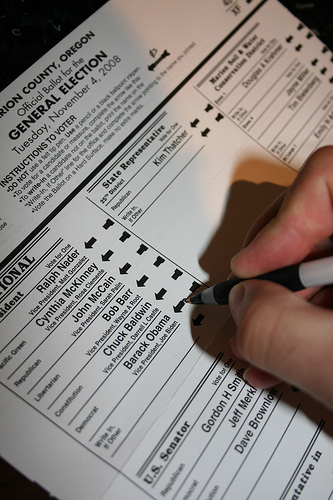 Want to vote early? Thirty-four states plus D.C. allow in-person early voting, and mail-in absentee voting is already under way in nearly all 50 states. Here are 10 reasons you should take advantage of this option.
1. Someone could come down with the flu and need your care. And chicken soup.
2. You could get to the polling place at the last minute and find out it's not your polling place anymore.
3. Your Republican governor might declare parking tickets a felony and you'll lose your voting rights.
4. Flat tires, fender-benders, misplaced car keys, late bus, dead batteries—the transportation gremlins are real.
5. The dog could eat your sample ballot.
6. What if Republicans decide to enforce a new voter ID law that would require you to produce a government-issued photo ID, a long-form birth certificate, a blood sample and a DNA test?
7. There are widespread reports of birds massing near polling places and Hitchcock-esque music being heard nearby.
8. Potential power outages could turn getting to your polling place a nightmare.
9. Once you vote early, the phone calls stop and no more candidates and volunteers knock on your door.
10. The election is just too important to leave any chance that you might not be able to vote.
Please share this with others who are able to vote before Nov. 8.