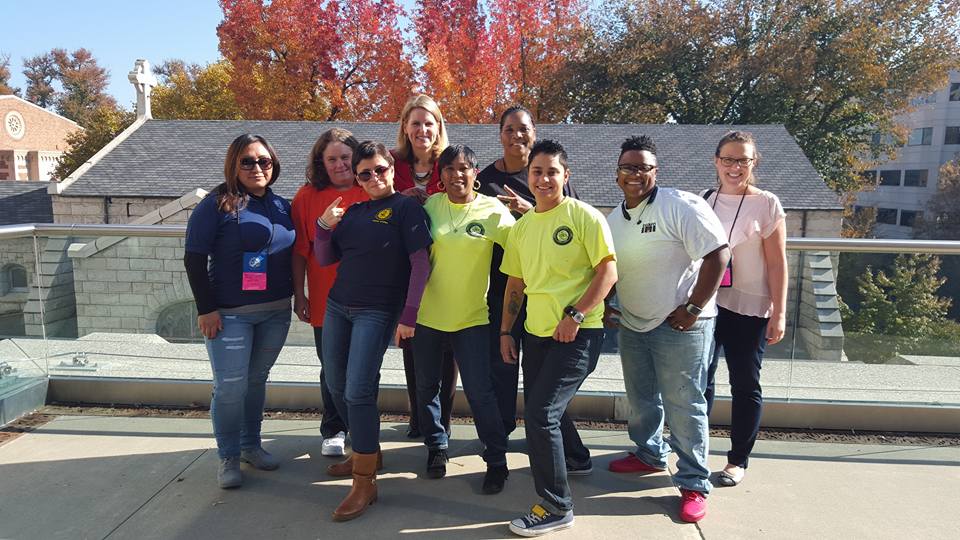 Women have the power to be the difference in this election cycle. A deeper look into races on the federal and state levels show women as a pivotal vote in 2016. For the past several election cycles, we've heard a lot about soccer moms and unmarried women helping determine the election cycle. Soccer moms represent the swing vote, while unmarried women turn out disproportionately for Democrats—that is, when they vote. This election cycle, Republican college-educated women are running away from Donald Trump, and we are hearing lots of discussion about the voting expectations for non-college white men and women, the working people of America.
Liz Shuler, the secretary-treasurer of the AFL-CIO, and Randi Weingarten, AFT president, launched "Women in the Breakroom" on a national tele-town hall last month. This program will educate union women about the candidates who will help working people build a better life. In the National Survey of Working Women, with 25,000 union member participants, we learned that 60% of the respondents were the main breadwinners in their families. From this we can see that issues traditionally dubbed as women's issues, in fact, are everyone's issues. If a woman is not earning equal pay for equal work as a man, then her whole family is losing out on fair pay. If maternity leave is not paid and paternity leave isn't even an option, much less paid, then an entire family is put at a disadvantage.
It also seems true that issues most important to women are everyone's issues. During the survey taken of the nearly 200 woman participants in the tele-town hall, "right to work" was ranked as the most important issue to them. Right to work reduces pay by $6,000 per person in a comparison of states with the harmful legislation and those without. Similarly, workplaces are 54.5% less safe.
With right to work as the number one issue on the minds of the tele-town hall women, Shuler traveled to St. Louis to participate in the first in-person "Women in the Breakroom" event hosted by the Missouri AFL-CIO. Right to work is a primary focus in the Missouri governor's race, with Chris Koster as a strong advocate for working families and his opponent, Eric Greitens, ready to enact the dangerous legislation.
The first "Women in the Breakroom" was a great success. The all-woman group of Missouri elected officials, union leaders and members spoke about why right to work is wrong for Missouri and how to be the force to stop it. The conversation was proactive, talking about the need for paid leave, elevating more women into leadership positions, diversity, equal pay and affordable child care.
Over the past couple of weeks, the Missouri AFL-CIO has continued to build the "Women in the Breakroom" program. This past Saturday, Shuler was back in Missouri to participate in Missouri's first women-focused door-to-door political canvass and phone bank. Crowds of union members showed up to go door to door with state House candidate Karen Settlemoir-Berg, a UFCW member, and Shuler. Later that afternoon, "Women in the Breakroom" held its first-ever women supporting women phone bank. Participants, including state Sen. Gina Walsh, who also serves as president of the Missouri Building and Construction Trades Council, and Shuler, called women union members to discuss several candidates—Attorney General candidate Teresa Hensley, state Treasurer candidate Judy Baker and state House candidates Deb Lavender and Vicki Englund—who will work to rewrite the rule to be fair to working men and women.
"It's great to see this program taking off. In September, a great group of women labor leaders and activists met to talk about how to put working women front and center this election cycle. And by October, those words were put into action. Working women in Missouri and other battleground states are making a huge impact this fall," Shuler said. "Look out for the next round of events in Kansas City, Missouri."
When asked about why she was supporting Hillary Clinton, Koster and Jason Kander, Remoria Miller of Machinists (IAM) District 9, Local 134, a participant in the second "Women in the Breakroom" event, said, "Equal pay and women having a voice in the workplace go hand in hand."
"Women in the Breakroom" is uniting and arming women with the inspiration and materials they need to elect leaders who will fight for a better future for each and every one of us.
Merri Berry is the Missouri AFL-CIO political director.