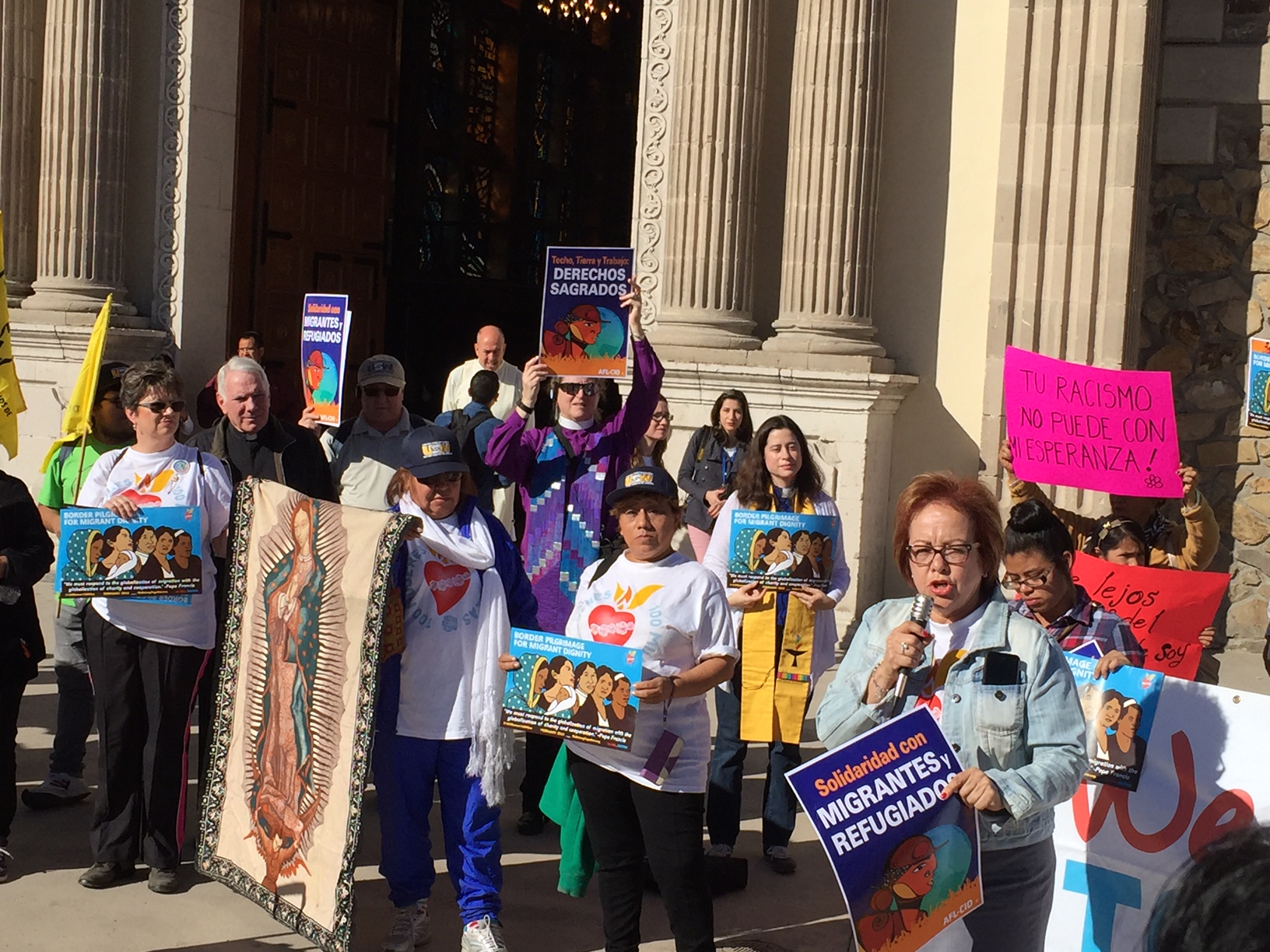 The labor movement is welcoming Pope Francis back to North America this week and joining with those celebrating his historic visit to the U.S.–Mexico border. His visit brings a much-needed message of solidarity at a time when immigrants, refugees and working people are increasingly under attack.
The location of his visit is highly symbolic. The El Paso-Juárez region is cut in two by the border and is host to thousands who struggle every day to build a better life under the crushing weight of corporate-driven trade and economic policies and the criminalization and mass deportation of the U.S. immigration system.
In partnership with the National Domestic Workers Alliance, the AFL-CIO delegation joined a daylong pilgrimage to uplift Pope Francis' urgent call for a people-centered economy and compassion for migrants and refugees. They also met with local and trans-national labor, faith and community leaders, as well as workers organizing for a brighter future for themselves and their children.
Here is what some of the members of the delegation are saying about Pope Francis and his visit to the U.S.–Mexican border.
Maria Elena Durazo, UNITE HERE general vice president for immigration, civil rights and diversity:
I am honored to walk alongside my union sisters and brothers at this monumental event. As members of the union of hotel and food service workers, every day we fight for the rights of immigrants across the country. We are grateful Pope Francis' visit will bring visibility to our struggle.
Ezzie Dominguez, a member of Centro Humanitario in Denver and a participant in the pilgrimage:
Last September, we heard the Pope's message about being a nation of immigrants and extending a helping hand to those in need. But over the last few months, all I see are more deportations and raids on our communities and political hate speech....El Paso is the border that my husband crossed 17 years ago, but today, we live under the constant threat of him being deported. My 11-year-old son, who will be walking with me, feels so much fear and sadness, he doesn't understand why anyone would want to take his dad away from us.
John Patrick, Texas AFL-CIO president:
Wherever he goes, Pope Francis reminds us that all life and all work has worth and dignity. I hope our elected officials here in Texas will take that message to heart and end the divisive scapegoating of immigrants and attacks on working people.
Esther López, secretary-treasurer of the United Food and Commercial Workers (UFCW) union and co-chair of the AFL-CIO Executive Council Immigration Committee:
In a city with one of the highest rates of denial for asylum seekers in the country, the labor movement is here to amplify the pope's unifying message of solidarity and demand more humane, people-centered trade and immigration policies.
James Boland, Bricklayers (BAC) president and AFL-CIO Executive Council Immigration Committee co-chair:
The pope's historic visit brings border issues into focus and helps us see that the struggles of working people are one and the same regardless of where we are born. The devastating effects of trade policies like NAFTA and CAFTA have put profits over people and eroded decent work in border communities. It is urgent that we turn away from corporate-driven agreements like the TPP and demand a new approach that gives working people a chance.