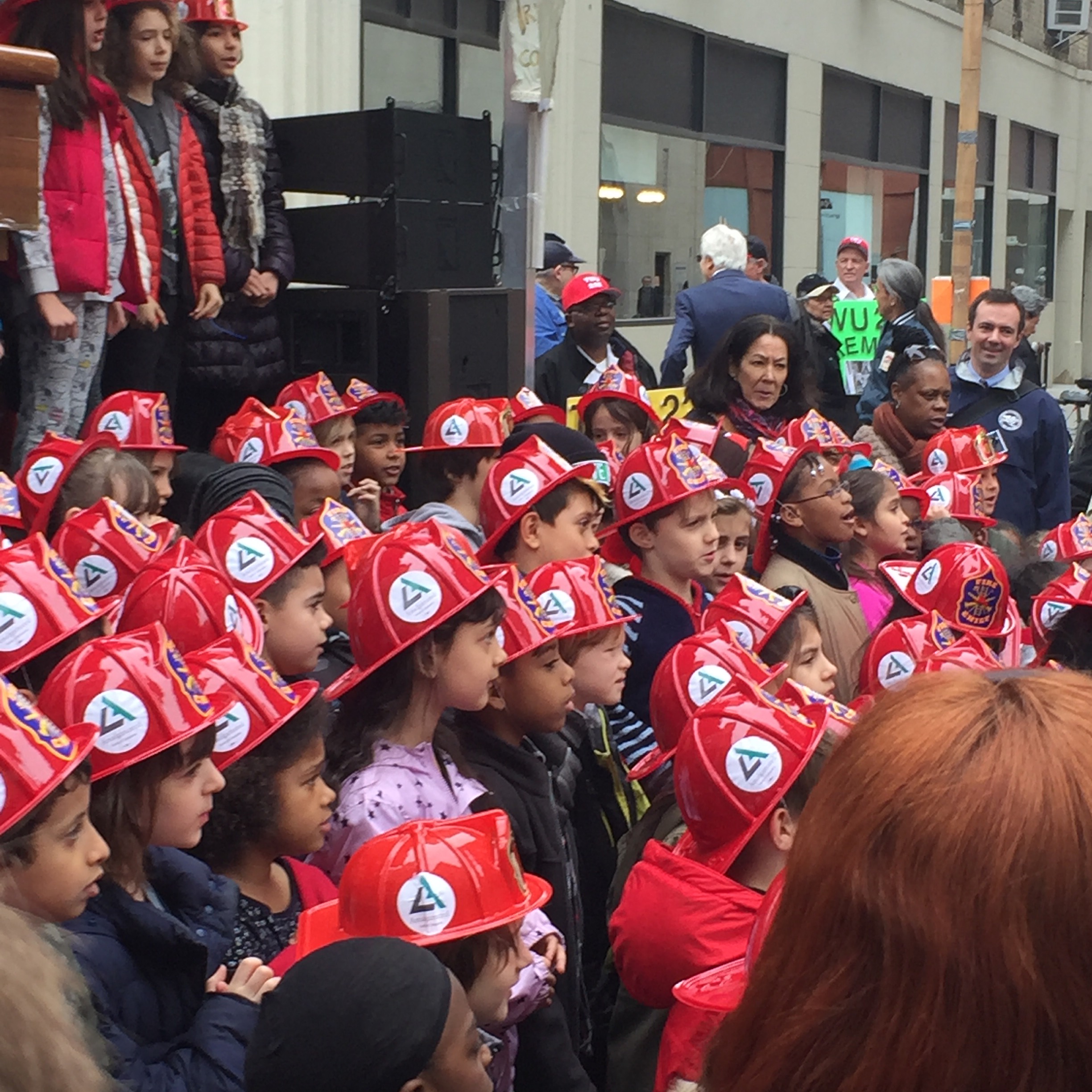 Janella T. Hinds is the secretary-treasurer of the New York City Central Labor Council, which represents 300 unions and 1.3 million workers in the New York City area.
It's March and, though the old adage is that the month comes in like a lion and goes out as a lamb, for women, this is also a month to celebrate our strength and to remember our sisters who helped pave the way for us.
In the labor movement, women are excelling and showing what we can do when we claim our rightful seats at the table. Labor leaders like AFL-CIO Secretary-Treasurer Liz Shuler, AFT President Randi Weingarten, Service Employees International Union President Mary Kay Henry and National Education Association President Lily Eskelsen Garcia are helping to set the direction for workers across the country, and around the world. The labor movement is more diverse than ever, and though attacks on workplace rights still threaten the safety of workers, we can all agree that workers have never been safer than they are right now. Who do we have to thank for regulations and laws protecting workers? We can wholeheartedly say that the sacrifices of a group of 146 workers, roughly 105 years ago, signaled a true push for worker safety and protection.
On March 25, 1911, a group of workers reported for duty at the Triangle Shirtwaist Factory in Greenwich Village. Some of the workers were still in their teens, but they were responsible for helping to support their families. The ladies went to work, expecting that day to be no different than the day before. They were used to working nearly 60-hour weeks, taking home paychecks amounting to between $7 and $12 per week. These women—garment workers —crafted the delicate shirtwaists that clothed everyone, from the wealthy society women to the poor and everyone in between. The women were packed into rooms on the building's eighth through 10th floors, with locked doors, because the company's owners were convinced locked doors would prevent theft. And so they went to work that day, just like the days, weeks and months before.
History tells us the fire started on the eighth floor in a scrap bin, and spread quickly. A deadly combination of locked doors, a broken fire escape and a fire ladder that only reached the building's seventh floor have been blamed for the day's fatalities. All of those factors, however, were symptoms of a larger problem: unsafe working conditions. Lives were lost because the need for profit was placed over the importance of worker safety. Outrage about the senseless deaths helped to mobilize a city and a nation to fight for worker safety policies and legislation.
In New York City, women are continuing to lead the way in the fight for worker safety. Over the last year, both the New York Times and MSNBC have reported on the workplace hazards facing nail salon workers. According to reports, the chemicals used in even the most basic of nail maintenance can prove toxic when used in high quantities. Many of these chemicals have been linked to higher instances of miscarriages, cancer and other lung issues in nail salon workers. Now these women are standing up and fighting back against the health hazards and wage theft that have plagued the industry for far too long.
New York's nurses also are standing up for patient and worker safety in the form of safe staffing levels at local hospitals. When nurses are forced to take on heavy patient loads, both the health of patients and nurses can suffer. According to the Journal of the American Medical Association, the odds of patient death increases by 7% for each additional patient a nurse must care for at one time. It is also not uncommon for nurses to suffer from burnout from being overworked. Symptoms ranging from chronic fatigue to insomnia to back pain have been reported when health care professionals are overworked. New York's nurses are continuing to make the case for hospitals and other medical facilities to maintain their commitments to protecting the health of patients and workers, as well.
On March 23, workers from all over New York City gathered at the site of the Triangle Shirtwaist Factory fire to remember the sacrifices of the women who died at that location 105 years ago. Working men and women stood with labor leaders, students, elected officials, community groups and even family members of those who perished during the tragic blaze to continue the fight for worker safety. This Women's History Month, and every month, let us continue to draw strength from the sacrifices of those who made worker safety legislation possible. And let us show our gratitude by continuing the fight to improve conditions for all working people.