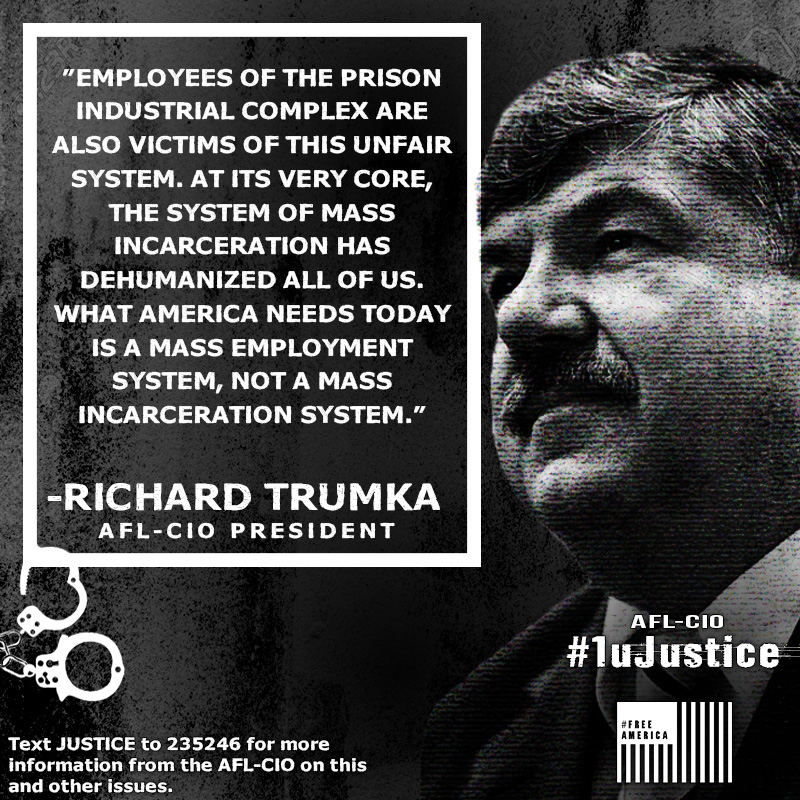 Mass incarceration is an important issue for working people. These policies have devastated communities of color, weakened our movement, and made the job of law enforcement and corrections officers more dangerous. It's time that we have a deeper conversation about mass incarceration and pursue policy changes that will improve the lives of those who are presently or formerly incarcerated, their families, and our brothers and sisters who work in prisons. Mass incarceration has become a big business whose product is low wages and blighted lives, and the time has come for us to do something about it.
That's why, on Thursday, I'm joining a group of union leaders on a visit to the Washington Corrections Center for Women. We're going to learn about an innovative program called Trade Related Apprenticeship Coaching. This program brings together the Laborers (LIUNA), Carpenters and Ironworkers for a 16-week program where inmates learn the tools and techniques for a trade. Finding a good job after release from prison is a key to making sure that people with felony convictions have access to work and a paycheck so they can support their families. Three years after completing the TRAC program, the average number of formerly incarcerated individuals with a job is four times higher for participants than people who have been incarcerated and didn't go through TRAC or a similar program. A new report from the National Employment Law Project shows that such programs are a key part of the solution.
The labor movement is an essential partner in bringing an end to mass incarceration and injustice in the criminal justice system. We represent not only the formerly incarcerated who reintegrate into society through access to jobs with good pay and benefits, but also the criminal justice workers employed by prisons. Many union members live and work in communities that are over-criminalized and/or have family members who are incarcerated. Our current unfair system victimizes both those who are incarcerated and criminal justice workers.
Every year, more than $80 billion is spent on the prison system. That money could be better invested in schools, housing, transportation, a cleaner environment and creating good jobs.
Of every three Americans, one of them has a criminal record, and mass incarceration promotes poverty. Between 1980 and 2014, 5 million fewer Americans would have been poor without the effects of mass incarceration. That means the poverty rate would have been 20% lower. Poverty is often handed down from one generation to the next. When more than half of Americans in state and federal prisons are parents with minor children, we're not setting up our future very well.
The negative effects of these policies aren't evenly distributed, either. More than 60% of prisoners in the United States are people of color. Black men are six times more likely to be incarcerated than white men. Hispanic men are 2.5 times more likely to be incarcerated. Entire communities of immigrants, people of color and workers have been criminalized. This hurts not only our economy, but puts into question our identity as a nation.
Working people employed in the criminal justice system often face unsafe working conditions. With overcrowding spurred by greedy corporations, correction officers and prisoners often find themselves in dangerous situations. The levels of stress these workers face daily is far greater than the stress levels most workers will ever face.
Our goal is to shift from a system that oppresses people of color and prioritizes incarceration to a mass employment system that connects the formerly incarcerated and young people in economically deprived communities with access to good quality jobs, which often are union jobs.
Learn more about the issue at LetsFreeAmerica.com or on Twitter with the hashtags #FreeAmerica and #1uJustice.
Carmen Berkley is the Director of Civil, Human and Women's Rights at the AFL-CIO.