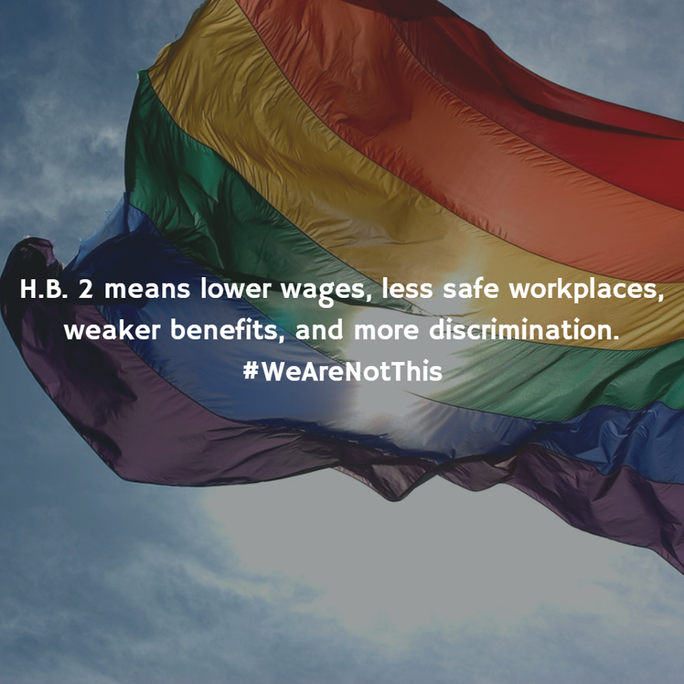 Attorney General Loretta Lynch made one of the boldest and clearest statements in support of transgender people by a government official at any level this week:
"Let me also speak directly to the transgender community itself. Some of you have lived freely for decades. Others of you are still wondering how you can possibly live the lives you were born to lead. But no matter how isolated or scared you may feel today, the Department of Justice and the entire Obama Administration wants you to know that we see you; we stand with you; and we will do everything we can to protect you going forward."
We knew that North Carolina's H.B. 2 law was a discriminatory attack on the Lesbian, Gay, Bisexual, Transgender and Queer (LGBTQ) North Carolinians and working families, but for the U.S. attorney general to speak so boldly and directly to the transgender community, is a groundbreaking turn of events.
Lynch's remarks were a reaction to North Carolina's decision to sue the federal government rather than repeal H.B. 2 after the Justice Department warned state officials that the new law was unlawful and could result in sanctions. Gov. Pat McCrory's hostility toward the LGBTQ community and working people in general has led the state down a path that could cost the state billions in federal subsidies and has already cost the state thousands of jobs and untold millions of dollars in business.
H.B. 2 is an attack on the dignity and respect for all working people in North Carolina. The law not only eliminates discrimination protections for LGBTQ folks and attempts to police our bathroom choices, it also prevents cities and counties from establishing their own minimum wage standards. Working families deserve better, LGBTQ people deserve better, we all deserve better treatment from our elected officials.
In the labor movement, we know the importance of recognizing the dignity and respect of every working person. It's important also that we celebrate when our government officials do the same.
Please join us in thanking Attorney General Lynch for standing up for LGBTQ and working people across North Carolina.