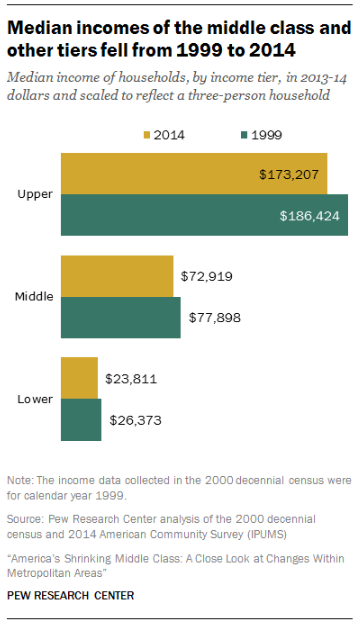 The shrinking of the middle class in the United States is something that you hear pundits talk about frequently. A new report from the Pew Research Center shows that problem is not just a real one, but one that is widely distributed across the country and is hurting not just the Rust Belt, Appalachia and the Deep South, but also hits nearly every metropolitan area in the country. Most importantly, the study shows that the rise of inequality is one of the key effects of the shrinking middle class.
As the New York Times reports:
Pew reported in December that a clear majority of American adults no longer live in the middle class, a demographic reality shaped by decades of widening inequality, declining industry and the erosion of financial stability and family-wage jobs. But while much of the attention has focused on communities hardest hit by economic declines, the new Pew data, based on metro-level income data since 2000, show that middle-class stagnation is a far broader phenomenon.
Read the full report.