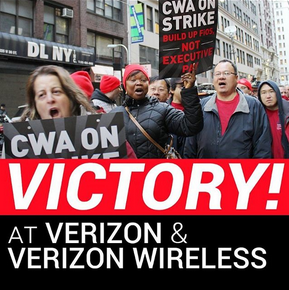 Each week, we take a look at the biggest friends and foes of labor. We celebrate the workers winning big and small battles, and we shame the companies or people trying to deny working people their rights.
Winners: Verizon workers, after the largest strike in recent history led to what Communications Workers of America (CWA) calls "big gains" for working people.
Runners-Up: Domino's workers in New York, now that the state attorney general has filed a wage-theft lawsuit against the company for actions at franchise locations in New York City.
Loser: Walmart, which faces new charges of violating laws that protect pregnant workers.
Runner-Up: Seven Hills, now that National Labor Relations Board lawyers have found the company illegally retaliated against working people who participated in recent protests in Washington, D.C.