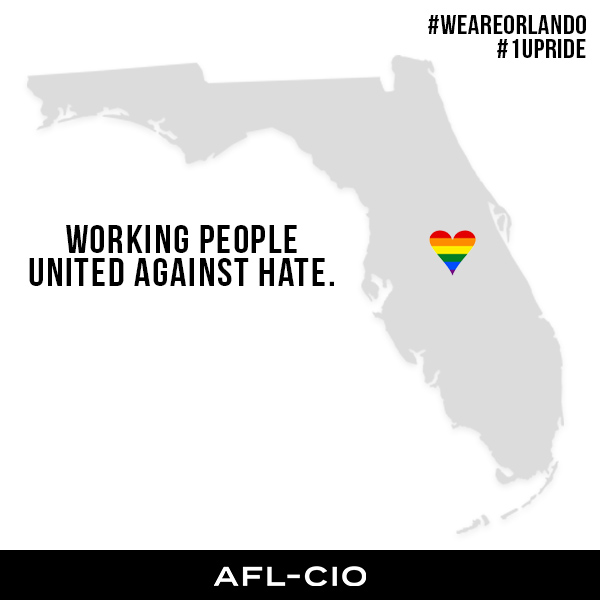 The AFL-CIO Young Worker Advisory Council released a statement today on the Orlando, Florida, massacre:
The AFL-CIO Young Worker Advisory Council extends its deepest sympathy and solidarity to all who have been affected by the unspeakable violent act, fueled by hatred and bigotry, which took the lives of 49 innocent people and injured at least 50 more at Pulse in Orlando early Sunday morning.
During Pride Month, we have been inspired over and over again by the amazing LGBTQ activists and their allies who have never stopped fighting for equality for all. We would be remiss to label this as an isolated incident because it is sadly a product of the systemic homophobia and transphobia that LGBTQ people face across the country on a daily basis. An attack like the one that occurred at Pulse reminds us of the the labor movement's historic motto, "An injury to one is an injury to all."
We must stand together even closer today to help each other heal our wounds. Joining Pride At Work and donating to local community groups are easy ways that we can support the movement toward equality for all. We will continue to fight for equality at home and at work, and we'll fight for an end to discrimination and hate against the LQBTQ community and all young working people.
If you are in the Orlando area, we urge everyone to donate blood, to help those who were wounded in the attacks. This is crucial being that there is still a ban against gay men donating blood. The GBLT Community Center of Orlando also has set up a crisis hotline at 1-407-822-5036 for those needing someone to speak to.
To make a monetary donation to the center, please use the following link: www.gofundme.com/29bubytq.