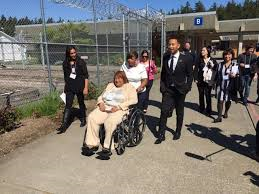 I am so thrilled that we at the AFL-CIO are partnering with John Legend's #FREEAMERICA campaign to raise awareness of the need to end mass incarceration. Our first step in this historic partnership was taking 30 labor leaders to Washington Corrections Center for Women, an all-women's prison in Washington state, to hear from those affected by the system and to learn about effective ways to reduce recidivism. The experience was truly transformational and liberating for myself and for those involved.
During our historic visit, Legend performed the first-ever concert streamed live from a prison through Facebook. It was viewed by more than 2.2 million people in the first 24 hours. Legend spoke about the importance of redemption and second chances and of the critical role that the labor movement has in transforming the justice system. Because labor represents the working people of the criminal justice system, as well as many of the formerly incarcerated, we have an obligation to uplift the voices of the working people and the inmates and to advocate for a fairer and more just system for everyone.
Unsafe and dangerous prison conditions affect both the workers of the system and the millions behind bars. Overcrowding, budget cuts, lack of training and lack of mental health and rehabilitation services have affected everyone touched by the criminal justice system, and the labor movement is positioned to play a leading role in efforts to make positive change.
While at WCCW, we visited the Trades Related Apprenticeship Coaching program, a state-accredited, pre-apprenticeship effort involving laborers, carpenters and ironworker unions. We saw firsthand how the program prepares people incarcerated to re-enter society and help them access good union jobs in the building trades. In a new report created by our partners at the National Employment Law Project and In the Public Interest, you can learn more about this and other innovative job training programs that unions are offering nationwide to help end the era of mass incarceration.
We are very excited about our partnership with #FREEAMERICA and look forward to transforming our broken criminal justice system.