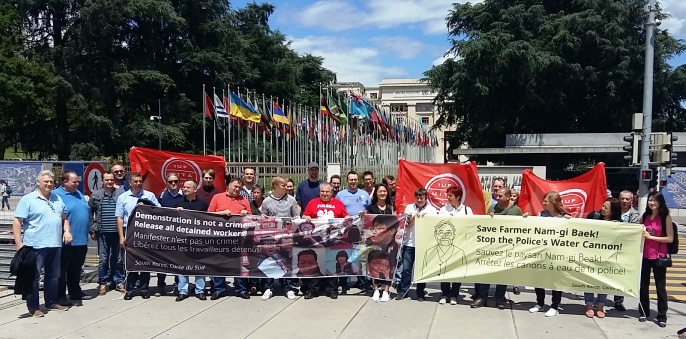 Union leaders and members have been at the forefront of the fight for social justice in South Korea, organizing and participating in peaceful demonstrations throughout 2015, including protests against the weakening of worker protections. Disturbingly, the South Korean government has increasingly responded to dissent with police brutality, mass arrests and harsh jail sentences targeted at leaders.
Han Sang-gyun, president of Korean Confederation of Trade Unions, was indicted in January for organizing several protests in 2015. The charges include offenses like "obstruction of traffic." As the United Nations Special Rapporteur on the rights to freedom of peaceful assembly and of association concluded in a July 17 report, the use of such charges "de facto criminalises the right to peaceful assembly." Prosecutors in the case recently requested an eight-year jail term. Nearly 600 KCTU leaders and members were arrested during the 2015 protests. Seven are still in jail, and 13 have been sentenced to prison terms ranging from eight months to 1.5 years. Lee Young-joo, the secretary general of KCTU, received an arrest warrant in December 2015 and has been under self-imposed house arrest at KCTU headquarters ever since.
The AFL-CIO stands with our brothers and sisters in the KCTU. Peaceful assemblies are at the heart of what unions do—organizing people to come together to demand our rights and push for pro-worker government policies. We have called on the South Korean government to cease criminalizing protest and will continue to work with our partners to defend workers' and human rights.