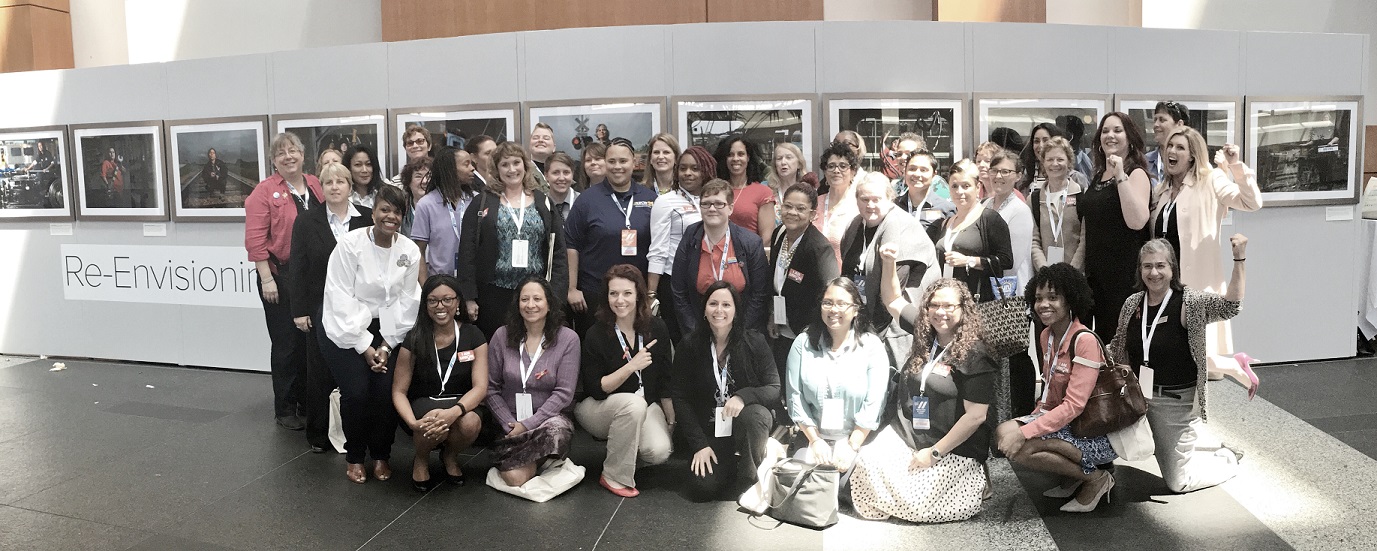 On June 14, 5,000 people gathered in Washington, D.C., for the first-ever White House Summit focused on gender equity. Union women and allies from AFT, AFSCME, the Bricklayers (BAC), Coalition of Labor Union Women, Electrical Workers (IBEW), Labor Council for Latin American Advancement, North America's Building Trades Unions, Office and Professional Employees (OPEIU), the United Steelworkers (USW), United Food and Commercial Workers (UFCW) and other unions stood united to make sure working women had a strong presence alongside the entrepreneurs that were being celebrated by corporate funders. As celebrities took center-stage, at the entrance all eyes were on working women.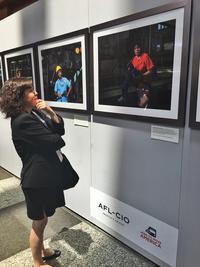 Jobs to Move America and the AFL-CIO partnered to bring the Women Can Build: Re-Envisioning Rosie exhibit to the event. The collection featured 11 photographs, taken by Pulitzer Prize-winning photographer Deanne Fitzmaurice, showcasing modern women in manufacturing from across the nation who build trains and buses, as well as six World War II-era photos from the Library of Congress. The term "Rosie" in the exhibit's title derives from Rosie the Riveter, a cultural symbol in the United States that represents women who worked manufacturing jobs in World War II, replacing men who enlisted or were drafted into the military.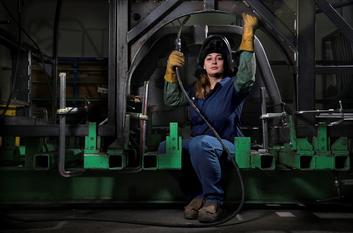 (Photo courtesy Deanne Fitzmaurice)
Chancy Davis, one of the subjects of the photos in the Women Can Build exhibit, is the only woman welder at the New Flyer Industries bus factory in St. Cloud, Minnesota: "For me, personally, I can't sit behind a desk. This, along with my good attention to detail, made welding a right fit for me. There are people out there who are old-fashioned and set in their ways and think this isn't a women's field. I want to show them that people can do whatever they set their mind to by being a living example of this."
The JMA coalition first created this project in 2015 with funding from several groups, including the Ford and Surdna foundations, IUE-CWA and SAG-AFTRA. JMA is a national coalition of community, academic, philanthropic, labor and environmental groups advocating for high-quality bus and railcar manufacturing jobs.
The project highlights the need for the multinational companies that manufacture U.S. buses and trains to increase opportunities for women, especially women of color, while providing these courageous women with a voice on the job to ensure they have family-supporting careers in this industry.
"This project seeks to bring awareness to those women who work hard every day to ensure we are building U.S. buses and trains for future generations," said JMA National Policy Director Linda Nguyen-Perez.
Learn more about Women Can Build and Jobs to Move America.