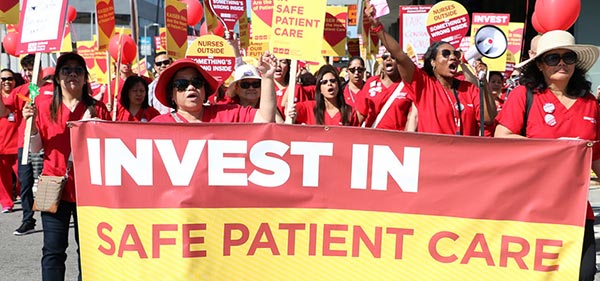 Starting this week, nearly 10,000 registered nurses, affiliated with National Nurses United (NNU), are striking in Minnesota, California and Massachusetts in order to improve patient safety and quality care at the hospitals where they work. The nurses are taking a stand on behalf of their patients at hospitals in the three states owned by various corporations that are raising serious questions about their commitment to patients and their health care providers. While the nurses are striking against the specific details of each situation, they are fighting back against similar problems seen at hospitals throughout the country.
Here's more on the strikes in each state:
The walkout, which began Sunday, affects Twin Cities nurses at Abbott Northwestern, Phillips Eye Institute, Mercy, United and Unity, hospitals run by Allina Health. "We're asking Allina, come back and actually negotiate with us," said Angie Becchetti, one of the nurses on strike. "We're asking for health insurance to keep intact and we're asking for better staffing and workplace violence prevention." Additionally, the nurses are asking for better planning by hospitals to ensure safe environments and they oppose hospital demands for cuts in health insurance for nurses and their families.
A strikes is scheduled to begin Thursday at Kaiser's Los Angeles Medical Center. "Our hospital is the tertiary center for the region," says Los Angeles nurse Tinny Adogado. "We treat patients from as far as Oregon and Colorado. We are proud of that, but we need Kaiser to focus on providing us the resources we need to properly take care of our patients."
A similar strike was set to begin Wednesday at Watsonville's Community Hospital, but the nurses were able to get the hospital to agree to address staffing concerns, protect health care coverage and make other improvements. The nurses will vote on ratification of the new deal on June 24. Jennifer Holm, a registered nurse at the hospital, lauded the victory: "I am very proud of the nurses who have worked hard—and the friends, family and neighbors who rallied around them—to win these key staffing issues at our hospital. This victory is about nurses being able to provide care to patients in our community. As a nurse, it is necessary that we continue the fight to make sure patients are the number one priority in these national for-profit hospitals."
At Brigham and Women's Hospital in Boston, nurses are discussing a one-day strike on June 27. They cite inadequate staffing for the hospital's Tertiary Care center, short staffing for critically-ill children and lack of proper staffing to allow nurses to take rest and meal breaks. The Massachusetts Nurses Association/NNU explained the danger to patients: "Unfortunately, the hospital and Partners HealthCare still refuse to value patients and nurses over profits. BWH/Partners refuses to provide safe nurse staffing levels for some of the hospital's sickest patients and refuses to provide equal benefits for every nurse." Maureen Tapper, a nurse at BWH, expanded on the dangers: "Many of our patients struggle to breathe. These patients and families need emotional as well as physical support. The reduction in nurse staffing severely impacts the care the patients so greatly need."
Follow the on-going efforts of these courageous nurses at National Nurses United.