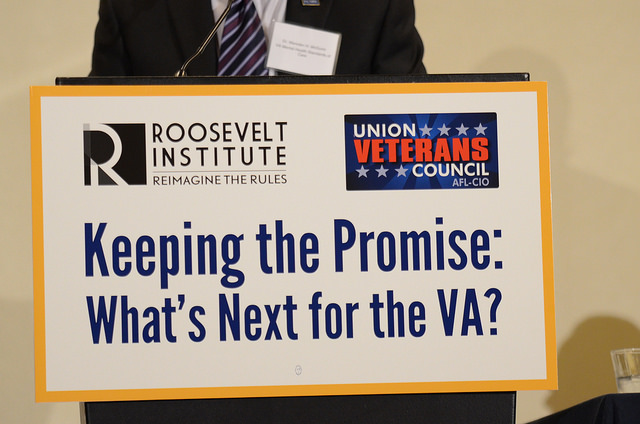 A wide range of experts, including veterans service organizations, leading academics and medical experts came together in Washington, D.C., to oppose cuts to the VA and to explore the future of veterans' health care. They explained that the VA provides an array of important services that are vital to the lives of U.S. veterans. In addition to taking care of veterans and their medical needs, the VA also trains doctors, researchers and other health care providers, provides telehealth services to our communities, legal services for veterans and takes part in disaster response efforts.
"One of the areas that is so important to our mission at VA that people don't think a lot about is our responsibility for emergency preparedness," said VA Under Secretary for Health Dr. David Shulkin. "Within hours after Orlando, we dispatched our mobile med centers immediately on-site. Since the tragic event in Orlando, our VA clinicians, our mental health professionals have counseled over 800 family members of people who suffered in that tragedy."
After the 2014 revelation that there were long wait times for VA appointments, some have called for the wholesale privatization of the VA system. The panel of experts described the risks and inadvisability of such a reckless move. Garry Augustine, DAV executive director, said the proposal wasn't good enough: "We're not opposed to choice. But don't give someone a card and say, 'Here, thanks for your service. Good luck.'"
Sherman Gillums, executive director of the Paralyzed Veterans of America, challenged elected officials to stand up for veterans:
There are people in your inner circle who are going to tell you that privatizing the VA is the answer. All I ask is that you ask them two questions: the first one is, have you received care in a VA medical center in the last five years? Or is your opinion informed by a secondhand perspective. The second question will be, who will be responsible for monitoring health care access quality in the private sector when it goes wrong without Title 38 protections to include investigation of wait lists, other access issues, medical malpractice cases?
J. David Cox, chair of the AFL-CIO Union Veterans Council and president of the nation's largest VA employees union, AFGE, emphasized the importance of looking at the objective facts of how well the VA is delivering for veterans:
I hope everyone who was able to attend or listen in on the conference came away knowing that the VA is right for veterans. There has been a lot of negativity surrounding the VA as we prepare for the Commission on Care's final report, but I hope a lot of those untruths were dispelled today and people came away knowing what we've known all along: The VA offers the best health care option for our veterans, and we cannot allow it to be auctioned off to the lowest bidder.