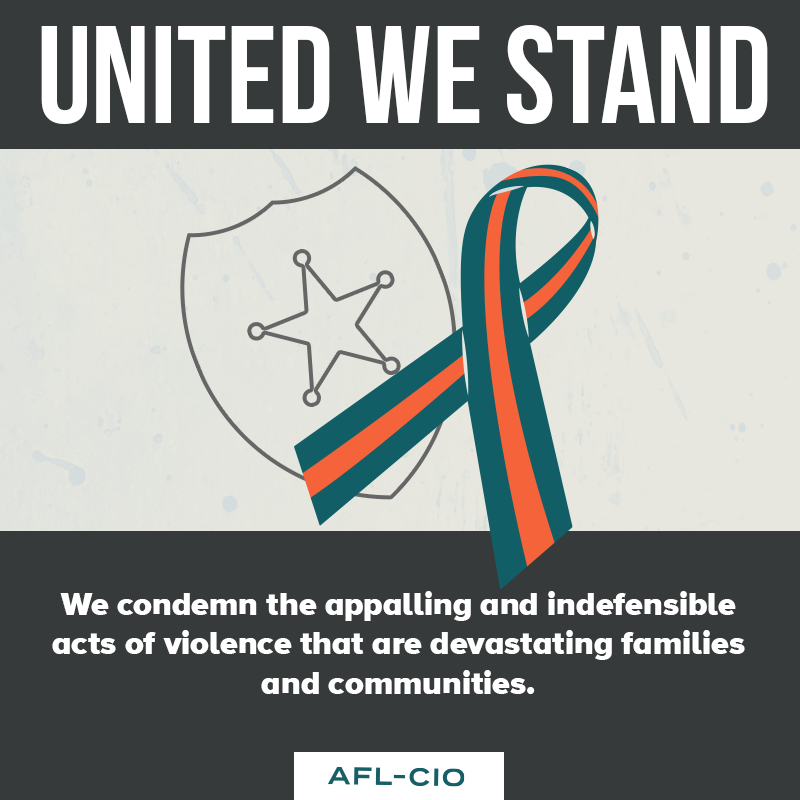 AFL-CIO President Richard Trumka released the following statement in response to the shooting of police officers in Baton Rouge, Louisiana:
Our hearts are again heavy with grief.
On Sunday, three of our brothers at the International Union of Police Associations (IUPA) were killed in another senseless act of violence: Mathew Gerald, 41, an ex-Marine and father of two daughters; Brad Garafola, 45, who had served three tours in Iraq and was the father of two sons and two daughters; and Montrell Jackson, 32, a new father of a baby boy whose last post on Facebook said: "Please don't let hate infect your heart."
This happened one day after the last slain Dallas police officer, Patrick Zamarripa, a 32-year-old Navy veteran and father of a two-year-old daughter was buried. The other Dallas officers laid to rest last week included Lorne Ahrens, 48, a 14-year veteran and father of two; Michael Smith, 55, an Army veteran who had served 27 years on the Dallas police force and father of two daughters; Michael Krol, 40, nine years on the police force; and Brent Thompson, 43, a transit police officer, father, grandfather and newlywed. We honor the commitment of all these men to public service.
We mourn their loss to their families and our community. We pray for the swift recovery of our wounded brothers in Baton Rouge and Dallas. And we condemn the appalling and indefensible acts of violence that are devastating families and communities across our country.
The United Food and Commercial Workers (UFCW) released a public letter calling upon our national leaders to take steps to address the numerous high-profile cases of violence that have dominated the news in 2016:
We must embrace, as a nation, that the lives of black Americans do matter. Those of us who are not black should not take offense to these words, but honestly ask ourselves: What would we say if we witnessed, time and time again, the lives of our neighbors, friends, and loved ones stolen by those sworn to protect?
And while we must open our eyes and ears to the prejudice that exists, we cannot allow ourselves to believe that every police officer is prejudiced—for we know that is not true.
To bridge this divide, and to build the trust we need between all groups, we must talk openly about these issues, and our entire nation must listen.
Read the full letter.