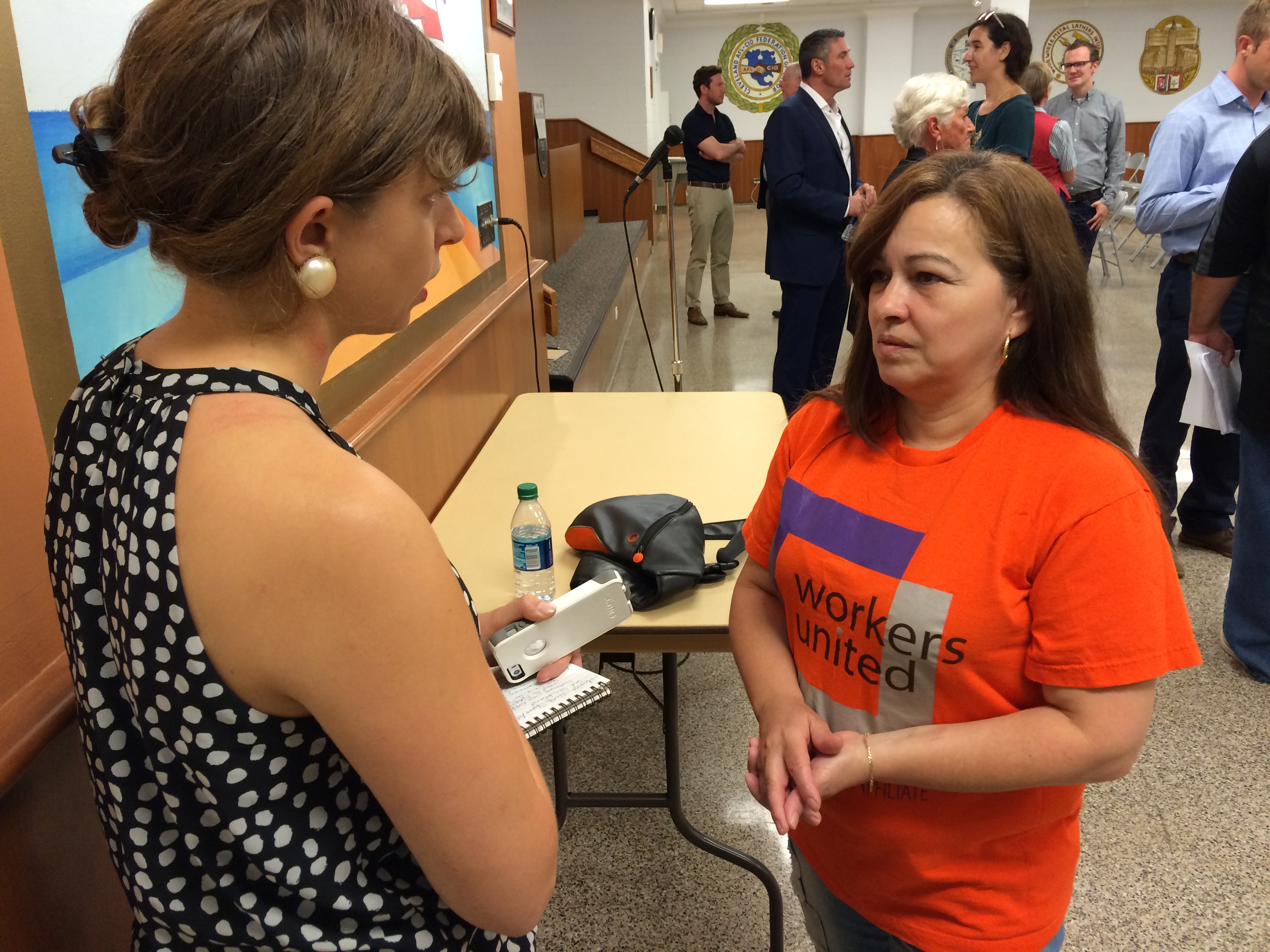 "Trump tries to talk a good game about trade policy, but how is someone like me supposed to believe a word he says when his own business practices threaten my well-being and that of my co-workers?" said union member Wanda Navarro in Cleveland this week, in advance of the Republican National Convention. "I hear what he says on the need for fair trade, then I look at what he does and it just doesn't make any sense."
Navarro told us her story:
Good afternoon. My name is Wanda Navarro. I moved to Cleveland when I was 18 years old and have lived and worked here ever since. I work as a garment worker [and] we proudly make fine men's wear right here in the Cleveland area. I am a proud member of Workers United Local 10 [an affiliate of North Shore AFL-CIO Federation of Labor]. I am proud of my work, and I am proud of my work product.
It has been a rocky road. One day in 2010, an announcement came that our factory would be shut down. This was devastating for me. To lose my job was such a blow that I didn't know how I would carry on.
Thankfully, then-Gov. Ted Strickland and other public officials like Sen. Sherrod Brown fought hard to keep our factory open and keep hundreds of jobs in Cleveland. Their efforts paid off—our factory remains open today, producing some beautiful, made-in-Cleveland clothing.
Our local clothing industry is constantly threatened by clothing lines manufactured overseas using cheap labor to maximize profits. I am lucky to work for a manufacturer that believes in keeping it made in America, but I know we constantly compete with clothing manufacturers that do not, like Donald Trump.
And the same goes for Rob Portman. His support for past bad trade deals has created an environment that is hostile for manufacturers in the U.S. My job will always be threatened because of these bad trade deals, and to keep approving new ones, as Portman has done, is adding insult to injury.
I know Ted Strickland is on our side in this fight, and I know he wants to protect and create every Ohio job he can. I know this because he has done it for me, personally. Thank you, Ted Strickland!