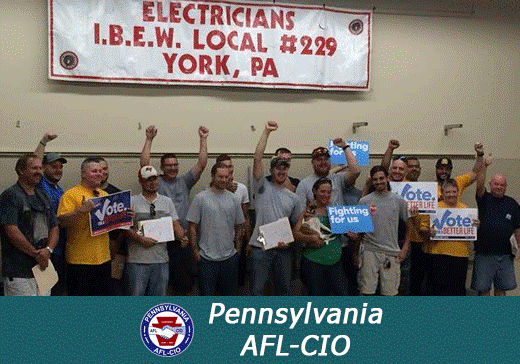 Across the country, union members joined together for a national day of action last weekend, filled with canvasses and phone calls for labor issues and pro-worker candidates.
The Pennsylvania AFL-CIO, led by President Rick Bloomingdale (AFSCME) and Secretary-Treasurer Frank Snyder (United Steelworkers), knocked doors and made calls for Democratic presidential nominee Hillary Clinton and senatorial candidate Katie McGinty.
The Ohio AFL-CIO, led by President Tim Burga (USW), and the North Shore AFL-CIO Federation of Labor, led by Executive Secretary Harriet Applegate (Communications Workers of America), hit the doors this weekend to educate Ohioans on union issues and to rally support for union-endorsed candidates former Gov. Ted Strickland and Clinton.
The Wisconsin State AFL-CIO, led by President Phil Neuenfeldt (Machinists), canvassed and made phone calls across the state for senatorial candidate Russ Feingold and Clinton.
The Florida AFL-CIO, led by President Mike Williams (Electrical Workers), and AFT President Randi Weingarten made phone calls and canvassed to educate voters on union issues and candidates.
The North Carolina State AFL-CIO, led by President James Andrews (Office and Professional Employees); AFGE President J. David Cox Sr.; AFL-CIO Executive Vice President Tefere Gebre; and union members kicked off their Labor 2016 efforts with a rally and four-hour door-to-door canvass in Charlotte, North Carolina. The Labor 2016 program includes direct mail, online ads and efforts to protect voter rights.
The Missouri AFL-CIO, led by President Mike Louis (IAM), canvassed across the state from St. Louis to Kansas City to New Madrid and Jefferson City to educate Missourians on labor issues and the 2016 candidates.
Nevada State AFL-CIO, led by Executive Secretary-Treasurer Danny Thompson (USW), and the Nevada Labor 2016 program had their biggest day yet on the national day of action. More than 200 volunteers across the state knocked on 2,500 doors to talk to working families about the election.