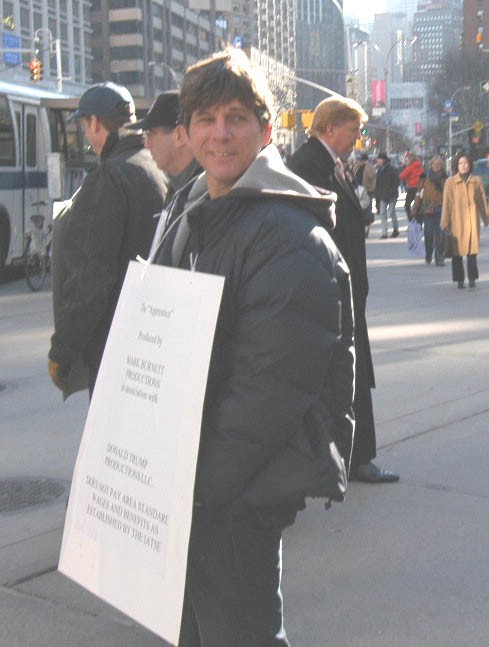 This post originally appeared at Medium.
Dear Mr. Trump:
My name is Dan Mahoney. I was born and raised in New York. I am a proud member and employee of the International Alliance of Theatrical Stage Employees (IATSE), the union that represents backstage crew and technicians in entertainment.
Working in motion pictures and television, I have worked alongside many celebrities, politicians, actors and other personalities. Imagine my surprise when I watched as you crossed our IATSE picket line in 2004.
Twelve years ago, you crossed the IATSE picket line of "The Apprentice," where crew members of your reality TV show were speaking up together to get paid fairly for the work they did on your show. You crossed the picket line right past me and the many hardworking men and women of "The Apprentice" crew without looking any of us in the eye.
I have worked in the industry (as a member of crews and as a union representative) since 1974. From my experience as a grip, and from my many crew friends — the entertainment industry is hard work. The men and women who worked on your show are talented professionals who do everything from building the sets, lighting the sets, editing each episode and doing wardrobe, hair and makeup for you.
I'm happy to say that in 2016, for the first time in 12 years, "The Apprentice" is now under a union contract, filming in Los Angeles. However, for all the previous seasons, you made millions from that show while denying your employees job protections, health and retirement benefits, and a union contract. Those men and women are now receiving the fair pay you denied them for so long.
Mr. Trump, when I saw you running for president, I recognized you as the man who mistreated the crew of "The Apprentice" and the man who crossed an IATSE picket line. The day you crossed our picket line was the day you showed me how little you care about American workers.
You lost my vote the day you refused to stand with working people.
Dan Mahoney
IATSE Assistant Department Director, Motion Picture and Television Production
Member, IATSE Locals 52 and B-751