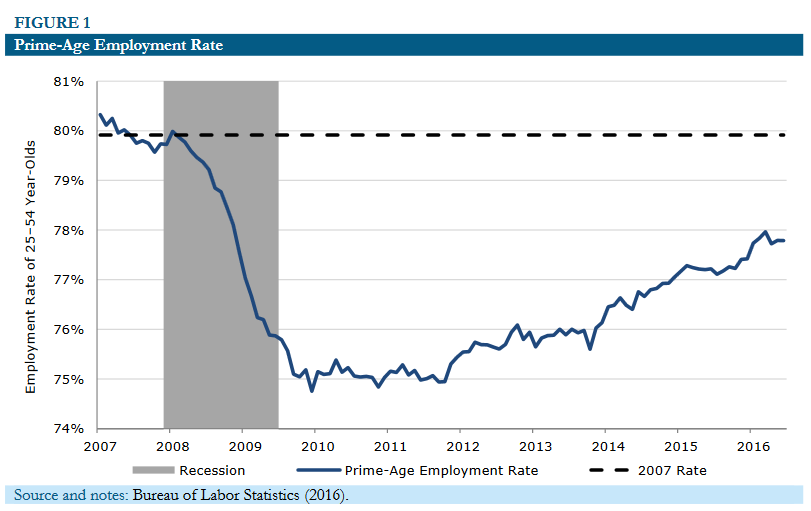 We recently blogged about the hopeful U.S. Census Bureau release finding the fastest middle-class wage growth on record and a falling poverty rate. However, the Census finding and the 4.9% unemployment rate have some declaring that it's time for the Federal Reserve to raise interest rates.
A recent report from the Center for Economic and Policy Research examines the realities behind those numbers and finds an uneasy truth: We're only two-thirds of the way to digging ourselves out of the Great Recession.
The report looks at more detailed measures of labor market strength, which helps paint a more accurate picture of labor conditions, including the prevalence of involuntary part-time work, the duration of unemployment and whether new job-finders were working in the month before taking that new job. These considerations aren't included in the top-line unemployment number, making it seem that the labor market is stronger than it is.
Nick Buffie, the author of the paper, explained that this report paints a compelling portrait of a weak job market:
Fewer people have jobs than they did in 2007, even after you adjust for the aging of the population. Those who do find jobs are too often landing part-time positions, while those who can't find jobs are remaining unemployed for unusually long periods of time. All seven of the paper's metrics reach the same conclusion: The labor market has yet to fully recover from the recession. If we didn't have the unemployment figure, nobody would be talking about raising interest rates.
Efforts by the Barack Obama administration, the Federal Reserve and state legislatures to create jobs and raise wages are paying off, but the report from CEPR makes it clear that it's not time for the Federal Reserve to take its foot off the gas just yet.