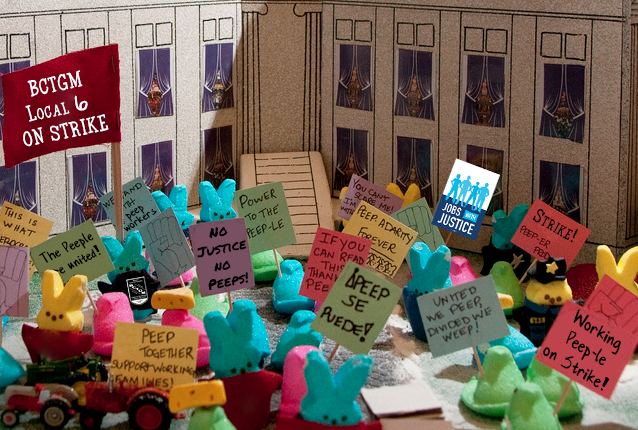 This post originally appeared at Bakery, Confectionery, Tobacco Workers and Grain Millers (BCTGM).
Four hundred BCTGM Local 6 members at Just Born in Bethlehem, Pennsylvania, unanimously voted to go on strike after rejecting the company's last offer. Workers began taking their places on the picket line this afternoon.
In contract negotiations that began in May, Just Born proposed eliminating the workers' pension plan, offered substandard market wage increases while increasing the workers' share of health insurance costs. While the union proposed modifications to the health insurance plan that would have offered the company substantial savings, the company refused. On Sept. 2 workers voted overwhelmingly to strike to maintain the benefits and standard of living they had earned over decades of service.
Local 6 has represented the candy workers at the plant since the 1950s. Besides marshmallow Peeps, the company is known for its non-chocolate candy products Mike and Ike, Teenee Beanee jelly beans and Hot Tamales. Just Born purchased the Goldenberg Candy Co. in 2003, retaining its Philadelphia factory where BCTGM members produce Goldenberg's Peanut Chews.
"The workers at the company's Peeps plant have devoted much of their lives to producing these iconic Just Born candies. And the company has benefited from their skills and dedication through soaring profits. Workers deserve to be treated fairly with reasonable wage increases and a pension that allows them to retire with dignity," noted Hank McKay, president of Local 6.
Just Born is a privately held, family-owned company with sales of $230 million. Originally incorporated in 1923 in New York City, Just Born currently operates out of Bethlehem, where it's been located since 1932.