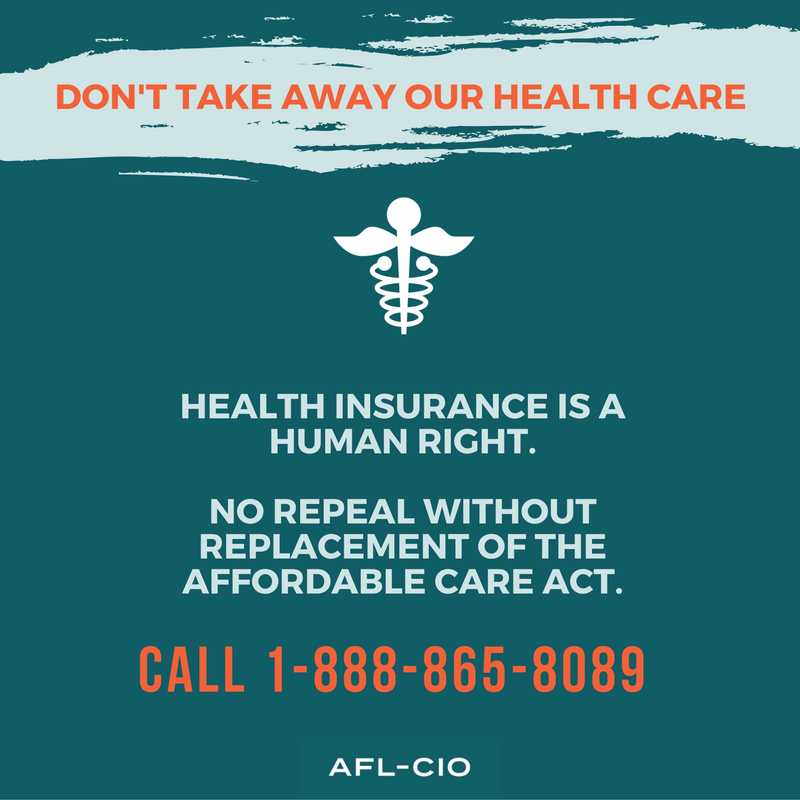 In the early hours of last night, Senate Republicans pushed forward with their reckless plan to repeal the Affordable Care Act. Shortly after 1 a.m., while most Americans were sleeping, Republican legislators passed a resolution containing a measure that initiates the process to repeal the ACA. The vote was 51–48, along party lines. Democrats used the amendment process to try to improve the resolution, with more than 160 amendments being offered but rejected. The House could vote on the bill as early as Friday.
America's labor movement has fought to make quality, affordable health care a basic right for more than a century, and while we have seen progress, this measure would reverse course and jeopardize the health benefits of 30 million Americans. Even the most fantasy-driven right-wing economics "experts" understand how dangerous this is.
Republicans are suggesting that repeal will be followed by a transition period until they come up with something else. But millions of Americans don't have time to wait for such a transition. Many of them have immediate health care needs that will no longer be covered if Republicans succeed. The Republican cut-and-run approach will dump responsibility for health care directly on workers, retirees, and state and local governments.
While the Republicans don't have a replacement proposal ready, they already are floating other plans that will go well beyond dismantling the ACA. House Speaker Paul Ryan and his allies have signaled cuts to Medicare and Medicaid that could transform those programs in a way that reduces coverage. Furthermore, they have floated a proposal that would increase taxes on workplace insurance that will force working people and retirees to choose between paying high out-of-pocket costs and foregoing necessary care.
Earlier this week, the AFL-CIO sent a letter to members of Congress demanding that they not repeal the ACA without an adequate replacement. We urge Republican leaders to abandon their strategy to force cuts to health coverage, and we demand "No Repeal Without Replace." The future of health care in America requires Republicans to abandon these plans and instead work with us to pursue sensible reforms to the system.