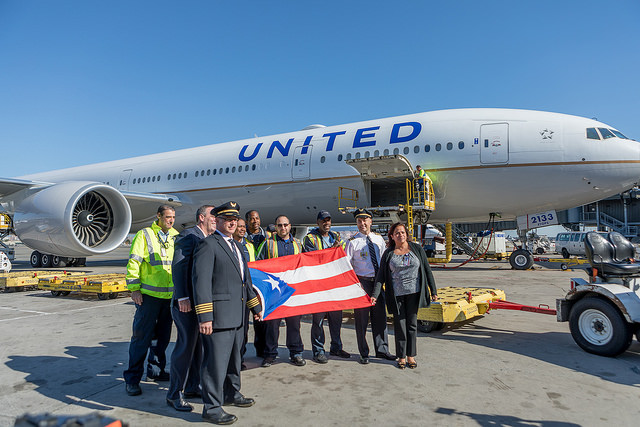 As the humanitarian crisis in Puerto Rico continues, working people from across the country are joining together to help with recovery and rebuilding.
The AFL-CIO is teaming up with the Association of Flight Attendants-CWA (AFA-CWA), Air Line Pilots Association (ALPA), Machinists (IAM) and United Airlines to fly more than 300 first responders and skilled volunteers to Puerto Rico to help with relief and rebuilding efforts. The flight was a response to the urgent need to get highly skilled workers to Puerto Rico to help people seeking medical and humanitarian assistance, as well as to help with the rebuilding effort. The nurses, doctors, electricians, engineers, carpenters and truck drivers on the flight will engage in various efforts, including helping clear road blockages, caring for hospital patients, delivering emergency supplies, and restoring power and communications. More than 20 unions have members on the flight.
The flight will be operated by members of ALPA and AFA-CWA who volunteered their time, and IAM members will work as ramp employees to support the flight. The flight also will transport more than 35,000 pounds of emergency relief supplies, including food, water and essential equipment. So far, United has carried nearly 740,000 pounds of relief-related cargo. The return flight will bring evacuees back. United, so far, has evacuated more than 1,300 Puerto Ricans in the wake of Hurricane Maria's devastation.
About the flight, AFL-CIO President Richard Trumka said:
The working families of Puerto Rico are our brothers and sisters. And this incredible partnership will bring skilled workers to the front lines to deliver supplies, care for victims and rebuild Puerto Rico. Our movement is at its best when we work together during times of great need. But we are even better when we find common ground and partner with business and industry on solutions to lift up our communities. This endeavor is entirely about working people helping working people in every way possible. In times of great tragedy, our country comes together, and we are committed to doing our part to assist the people of Puerto Rico.
AFA-CWA President Sara Nelson said:
When our union sisters and brothers see a need in our national or international community, we don't ask if we should act, we ask how. Today is the result of our collective strength, compassion and commitment to action. I am proud United responded to the call to carry a union of relief workers among America's working families to care for our sisters and brothers in Puerto Rico. We are united in lifting up our fellow Americans. It is an honor to serve on the volunteer crew of Flight Attendants and Pilots transporting skilled relief workers and returning to New York with hundreds needing safe passage out of Puerto Rico.
The chairman of ALPA United Airlines, Capt. Todd Insler, said:
Our fellow Americans in Puerto Rico need help and this is a race against time. The ALPA pilots of United Airlines are honored to fly these skilled workers and medical professionals to San Juan today and will continue to support the humanitarian efforts going forward. We applaud these brave volunteers who are dedicating their time, selflessly leaving their homes and families, and answering the call to help. The strength of the unions represented on this flight comes from workers joining together to help one another. Likewise, the strength of this joint relief effort comes from all of us—labor, management and government—standing together to help our fellow citizens in their time of need.
IAM General Vice President Sito Pantoja said:
This flight carries not only much-needed supplies and skilled union labor, but also the love and support of more than 33,000 IAM members at United who will continue helping the people of Puerto Rico recover.
Here are some of the other comments about the trip and the overall efforts by working families to help out in Puerto Rico:
AFT President Randi Weingarten said:
These nurses and health professionals represent who we are as a union—caring and springing into action to help people when needed. To the people of Puerto Rico, tu lucha es mi lucha; your fight is our fight. We will be with you every step of the way to ensure our members and the people of Puerto Rico are cared for, the island is rebuilt and public schools are reopened.
Ready to launch the #UnionsUnited relief flight to #PuertoRico with talented @NationalNurses union members volunteering their skills #1u pic.twitter.com/k8giRZNSdn

— Liz Shuler (@lizshuler) October 4, 2017
Liz Shuler secty treas @AFLCIO & @IBEW local 3 union electricians on #PuertoRicoRelief #PuertoRico --some of the 300 pic.twitter.com/G2EH0d5gbZ

— Damon Silvers (@DamonSilvers) October 4, 2017
Proud to be with over 300 volunteers at Newark airport who will fly to help with #PuertoRicoRelief #unionsunited https://t.co/l8BkoWvWDo

— Liz Shuler (@lizshuler) October 4, 2017
It was an honor to join allies and @32BJSEIU members in demanding an immediate & sufficient aid to relieve & rebuild Puerto Rico. #RebuildPR pic.twitter.com/wFiDYHFMm8

— Mary Kay Henry (@MaryKayHenry) October 4, 2017
Our movement is at its best when we work together during times of great need. https://t.co/PZaPUbD9I8 #PuertoRicoRelief #UnionsUnited pic.twitter.com/UNuX8eV4Fb

— AFL-CIO (@AFLCIO) October 4, 2017
Teamster volunteers depart for #PuertoRico to assist with relief efforts: https://t.co/1mgZjibjjq #UnionsUnited #PuertoRicoRelief #1u pic.twitter.com/tpNAejzslA

— Teamsters (@Teamsters) October 4, 2017
25 @AFTHealthcare members boarded a plane full of @AFLCIO members to do recovery work in Puerto Rico this AM. pic.twitter.com/MosbprLCZt #1u

— AFT Pennsylvania (@AFTPA) October 4, 2017
Help working families in Puerto Rico and the U.S. Virgin Islands: https://t.co/i5Hw62YTxk

— OPCMIA International (@opcmiaintl) October 3, 2017
Luis lived through Hurricane Maria & says the thing you can do right now is make a donation https://t.co/OUVW1bX9BR https://t.co/2u7Fufg9QL

— United Steelworkers (@steelworkers) October 3, 2017
Four Union Utility Workers from @njamwater travel to #PuertoRico for Relief Work with @AFLCIO Read more: https://t.co/fcEP0vOFyc

— NJ American Water (@njamwater) October 9, 2017
Communications Workers of America (CWA) Local 3010 members who work for AT&T Mobility splicing fiber at a damaged cell tower: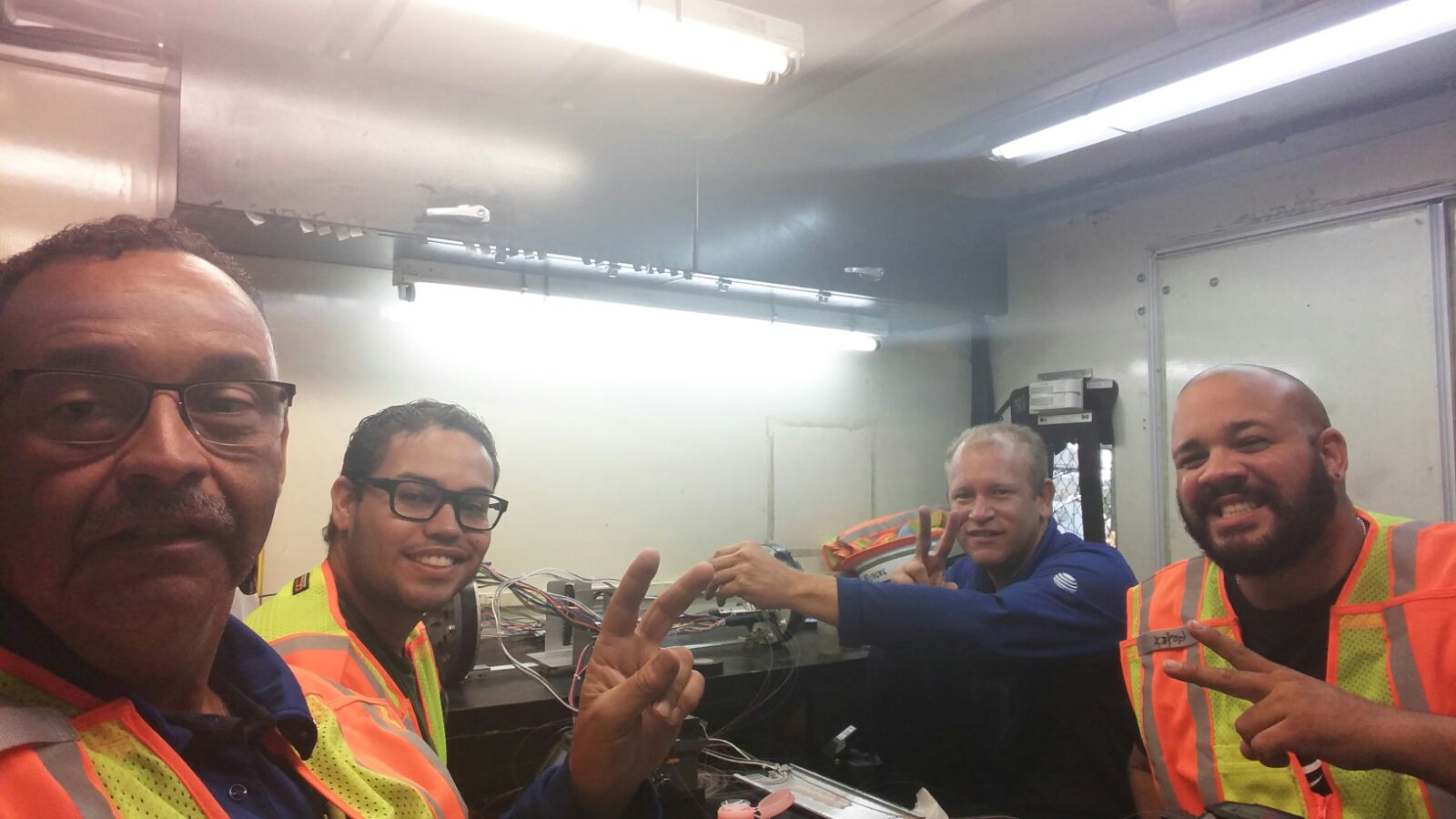 The International Longshoremen's Association (ILA) collected enough supplies to fill two 40-foot containers donated by the Integrated/C&C company. ILA members volunteered time to load the containers with generators, batteries, electrical cords, blankets, batteries, clothing items, non-perishable food items, and water. ILA International President Harold Daggett said:
We are grateful to Integrated/C&C for donating these two 40-foot containers. The company is also handling transporting these containers to South Jersey where they will be loaded on a barge and shipped to San Juan, Puerto Rico. We are also grateful to Maher Terminals for allowing us to load these containers outside the NYSA-ILA Training Center on Corbin Street.
A month after Hurricane Maria devastated their island, most Puerto Ricans still have no reliable source of safe drinking water.
American citizens of Puerto Rico are facing a massive humanitarian crisis. More than a million people still lack running water—they are forced to find water in contaminated streams, collect it from runoff, even drink from toxic Superfund sites. And the danger is not over for those with running water; because water treatment plants are still not operational, tap water may be tainted with raw sewage.
But we—YOU—can help alleviate human suffering. Through The AFT's Operation Agua, we are bringing water purification systems to Puerto Rican families and communities who are crying out for help.