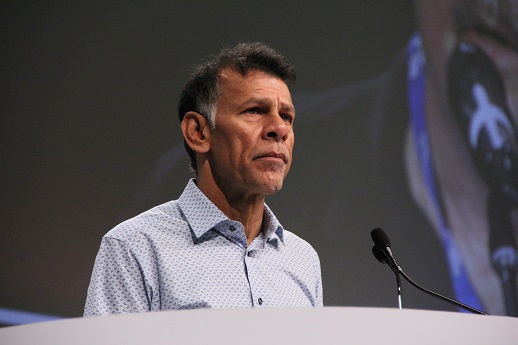 AFL-CIO President Richard Trumka and Canadian Labour Congress President Hassan Yussuff made the following joint statement about recent acts of violence against Muslim communities in both countries and President Donald Trump's executive orders on immigration:
As leaders of the Canadian and U.S. unions, we jointly affirm our commitment to ensuring that our societies are welcoming and egalitarian, and that we pursue policies that respect the dignity and rights of all working people, regardless of race, religion, immigration status or country of origin.
Our nations must always recognize and celebrate how successive waves of immigrants and refugees have helped build and enrich our communities, and make our nations and our unions strong.
We categorically reject policies, such as those being implemented by U.S. President Donald Trump, that criminalize immigrants, refuse refugees fleeing violence and persecution, and discriminate against people of Muslim faith and from predominantly Muslim countries.
We also condemn in the strongest possible terms any acts of violence against Muslim people. Tragedies such as the gunning down of men during evening prayer in Quebec and the burning of a mosque in Texas are a direct affront to our shared values, and we must all speak out loudly against hate crimes and the dangerous political rhetoric that emboldens them.
As trade unionists, we know that when forces attempt to divide us, our solidarity must deepen. Immigrants and refugees of all faiths are a vibrant part of our labor movement today, and any attack on them is an attack on us all. We know that our continued growth and relevance will depend on our ability to stand united in the face of adversity, and united we shall stand.