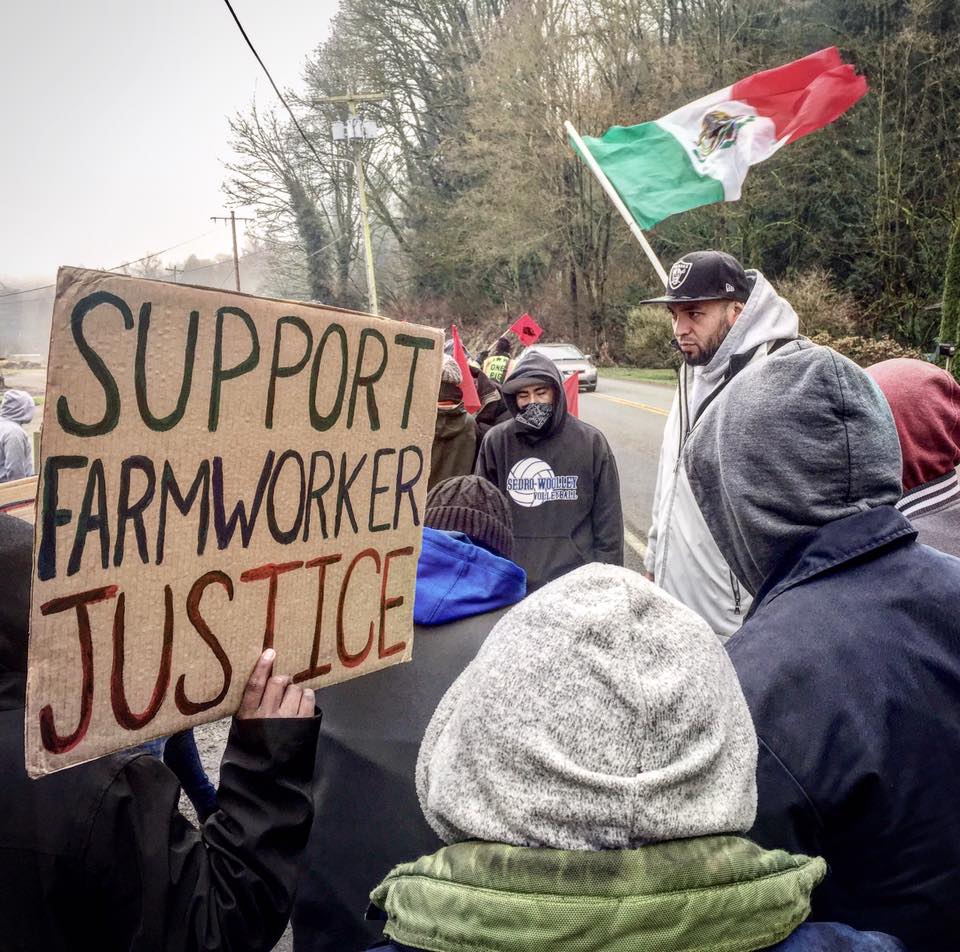 Our latest roundup of worker wins begins with several stories of workers joining together and persevering over years to achieve victory. Other successes range from firefighters working together to improve safety to New York Times staffers walking out in support of copy editors.
Hotel Workers Win 16-Year Fight to Join Together in Union: Workers at the DoubleTree in Santa Monica, Calif., have been fighting for their freedom to negotiate together since 2001. The workers announced their victory last month, saying they "sought dignity, good salaries, benefits and job security."
Farmworkers in Washington's Skagit Valley Win First Contract: After five years of hard work, farmworkers at Sakuma in Washington state's Skagit Valley have won their first contract. The workers, members of Familias Unidas por la Justicia, overwhelmingly approved the contract, which increases wages, bars discrimination, establishes seniority, creates a grievance procedure and improves disciplinary procedures.
IAFF Testifies in Support of National Cancer Registry for Firefighters: IAFF testified before the House Health Subcommittee in support of the Firefighter Cancer Registry Act. The legislation would create a registry to collect detailed information about firefighters with cancer across the U.S. The research would help us understand the link between firefighting and cancer, and could lead to improvements in safety and prevention.
National Grid Agrees to Hire IBEW Members for Granite State Power Link Project: IBEW Local 104 negotiated a memorandum of understanding with National Grid and Citizens Energy that will create as many as 2,000 jobs in the construction of the Granite State Power Link electric transmission project. The project will bring electricity to the U.S. from Canada.
Texas Fire Fighters Successfully Lobby to Improve Workers' Compensation for Members with PTSD: The Texas State Association of Fire Fighters successfully lobbied for legislation that will improve workers' compensation coverage for first responders with post-traumatic stress disorder.
Connecticut State Employees Reach Deal to Avoid Layoffs: State workers in Connecticut reached a deal that will save as many as 4,200 jobs. The agreement freezes wages for three years and cuts pension and health care benefits, but the contract's length was extended to 10 years.
Employees at New York Times Walk Out to Protest Cuts: After proposed cuts, staffers at The New York Times walked out in support of copy editors. The proposals could lead to half of the Times' copy editing staff losing their jobs.
SAG-AFTRA Reaches Agreement with Film and TV Studios: SAG-AFTRA has reached a tentative deal with the major film and television studios on a three-year contract. Details were not released, and the deal must still be ratified.