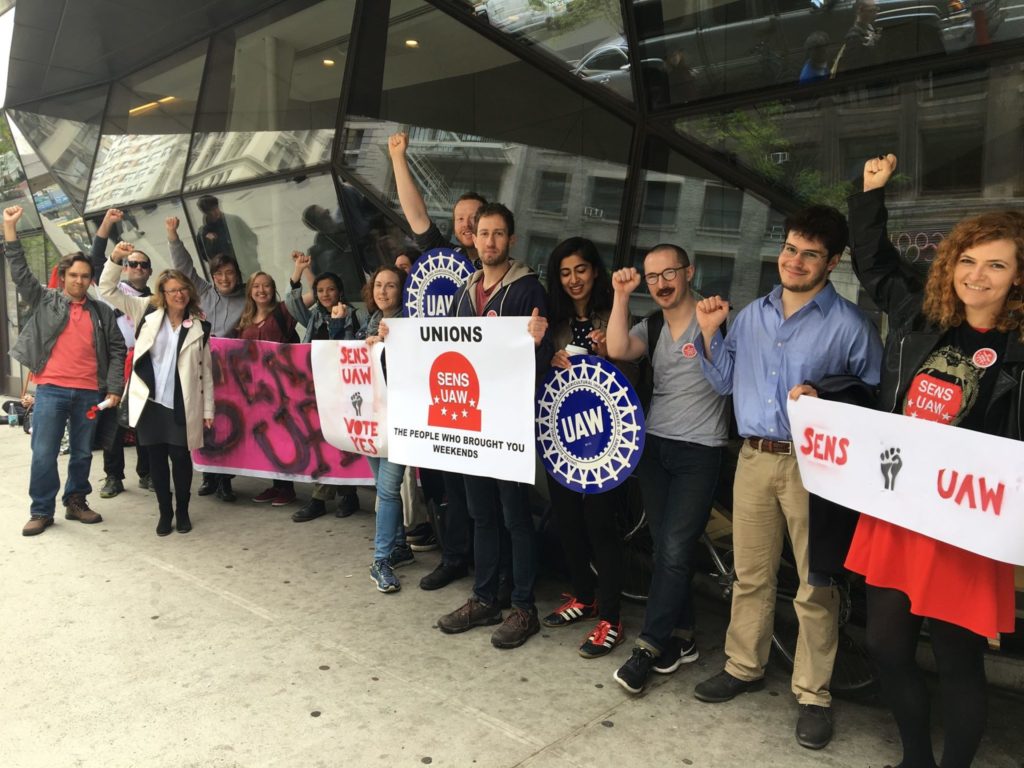 Our latest roundup of worker wins begins with a hard-fought victory at The New School. Other successes include the growing trends of digital media newsrooms organizing and progressive organizations living up to their professed values by voluntarily recognizing employees who choose to join together for collective bargaining purposes.
New School Graduate Workers Overwhelmingly Vote 'Yes': Research and teaching assistants at The New School in New York voted 502-2 to be represented by the UAW. Over three years, the graduate workers faced opposition and legal delays from the school administration and the overwhelming margin of victory in the vote is a testament to the hard work put in to fight for recognition of their right to collectively bargain.
Chicago Sun-Times and the Reader Employees 'Flying High' After Ownership Victory: After it was announced that the Chicago Sun-Times and the Reader were for sale, Tronc Inc., the publisher of the right-wing Chicago Tribune, was seen as a front-runner to become the new owner. The staff at the smaller papers fought back and pushed for an alternative solution. Now both papers are being bought by an investment group led by former Alderman Edwin Eisendrath and the Chicago Federation of Labor, a victory that maintains the independence of the paper from corporate interests.
Aircraft Maintenance Workers at Davis-Monthan Air Force Base Vote to Join IAM: Some 220 workers working for DynCorp International at Davis-Monthan Air Force Base in Arizona voted to join Machinists (IAM) Local 2949. The contract workers, who maintain A-10 Thunderbolt II jets, will now elect a committee to negotiate their first collective bargaining agreement.
Cafeteria Workers at Facebook Vote to Join UNITE HERE: More than 500 workers who serve food in the cafeteria at Facebook's California headquarters will be joining UNITE HERE Local 19 as part of a trend of tech company workers fighting for union recognition.
Raw Story Editorial Staff Join The NewsGuild-CWA: Editorial staff at progressive news organization Raw Story sought and won voluntary union recognition. They join The NewsGuild-CWA (TNG-CWA) as part of a growing trend of progressive organizations and digital media whose workers are exercising their freedom to come together to bargain with their employers.
Center for Community Change Staff Ratify First Union Contract: Staff at the Center for Community Change voted unanimously to ratify their first union contract. Leaders at International Federation of Professional and Technical Engineers (IFPTE) Local 70, which the staff members are represented by, described the contract as a strong one that affirms progressive workplace policies.
Staff at Democratic Socialists of America Join TNG-CWA: The staffers at the largest socialist organization in the United States, Democratic Socialists of America, asked for and received voluntary recognition of their union.