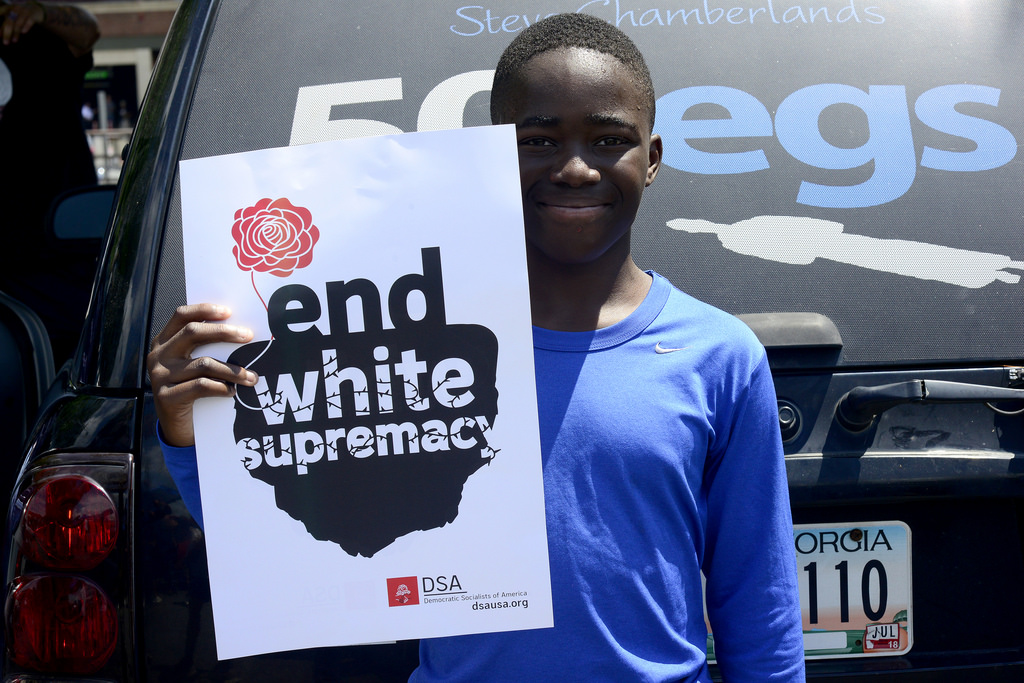 Working people across the country were shocked by the act of domestic terrorism perpetrated by white nationalists in Virginia on Saturday. Here are excerpts of how leaders for working family organizations responded:
AFL-CIO President Richard Trumka:
Yesterday in Charlottesville, Va., the nation and the world witnessed the hateful views and violent actions of white supremacists and neo-Nazis. This racism and bigotry is the worst kind of evil in our world and does not represent the true values of America. The true values of our country, values like equality and solidarity, are what have always overcome the most abominable prejudices. Any response must begin with our leaders, starting with President Donald Trump, acknowledging this for what it is: domestic terrorism rooted in bigotry. My heart goes out to the victims, especially the family of those who lost their lives, including a young woman named Heather Heyer and state Troopers Lieutenant H. Jay Cullen and Trooper-Pilot Berke M.M. Bates. I pray for everyone's safety. The labor movement condemns this domestic terrorism and remains committed to eradicating the despicable causes of hatred and intolerance.
Virginia AFL-CIO President Doris Crouse-Mays:
Allow me to be clear—the working people of Virginia do not and will not stand for discrimination and hate in our communities. Yesterday's disgraceful display of beliefs from the alt-right was simply that—a disgrace to the citizens of the Commonwealth and all that we stand for. Virginia's working families have fought long and hard to overcome the discriminatory policies of our past and to create an environment of inclusion and fairness in work places across the Commonwealth. We will continue to devote every ounce of our abilities to ensure that the rights and safety of all Virginians are preserved.

Furthermore, our thoughts and prayers extend to each of the peaceful counter-protesters who were injured or killed in the resulting violence from yesterday's rally. We also extend our deepest condolences to the Virginia State Police and the families of Lt. H. Jay Cullen and Trooper Pilot Berke M.M. Bates. No working person expects this shift to be his last, but these brave men and thousands of other first responders put their lives on the line each and every day to keep our communities safe.
AFT President Randi Weingarten and numerous educational leaders:
We are angered and heartbroken by the largest open mobilization of white supremacists in the United States in decades. We grieve the murder of Heather Heyer and the injury of other peaceful protesters against racism and anti-Semitism who, numbering in the thousands, courageously exercised their First Amendment rights in Charlottesville this weekend.

At the same time, we are sick with the knowledge that the racist uprising they protested is of a piece with a long history of racist ideology and terrorism that has afflicted every region of our beloved country....

We enjoin President Trump and his administration to take this opportunity to correct their course. They must reflect on their role in normalizing racism through statement and policy, and on their responsibility in creating the sense of moral license that enabled racist terrorism to manifest itself in the streets of Charlottesville and on the grounds of the University of Virginia. They must denounce white supremacy and white supremacist terrorism in the strongest terms....

Most importantly, we call upon the president, state elected official, and all those in positions with the power to do so, to enforce the law, protect Americans who justifiably fear racist violence, and investigate these events and bring the perpetrators of racist hate crimes to justice.
Read the full statement and list of educational leaders who endorsed it.
Communications Workers of America (CWA):
Members of the Communications Workers of America reject the vile actions and rhetoric of the white supremacists who paraded their hatred and bigotry this weekend in Charlottesville, Va. These evil actions, which President Trump couldn't be bothered to condemn, instead offering a weak 'violence on many sides' throwaway line, resulted in the tragic death of a young woman and injuries to many more.

Our government's failure to condemn these evil people emboldens them, and sets us back in our determination to realize our goal of a nation where all people are respected, all have opportunity and all are full participants in our democracy.

CWA members are determined to bring about that nation, and we will continue to work with our allies to ensure that hatred, racism and bigotry have no place in our nation. We also commend the law enforcement officers who stood together to end this demonstration of hate.
We grieve for the lives lost and pray for those critically injured because of the domestic terrorism committed in Charlottesville. Jobs With Justice condemns hatred, bigotry and violence against our friends and neighbors. Our hearts pour out to everyone in the Charlottesville community and those watching around the country traumatized by witnessing such barbaric acts of racism.

We recognize the progress achieved as communities finally remove the white supremacist monuments that stain our country. When tearing down symbols of hate sparks such vitriolic backlash, the work to fully dismantle racism from our society is far from over. Our nation needs more healing, unifying and transformation to live up to our values of respect, equality, diversity and freedom....

The Jobs With Justice network is called upon to combat the violent and exclusionary systems of white nationalism and white supremacy smoldering in our communities and institutions more than ever. We demand a future full of love, equity, diversity, peace, safety and opportunity. It is up to us to build the America that we and our future generations deserve.
National Nurses United (NNU) Executive Director RoseAnn DeMoro:
There can be no doubt that the appalling display of white supremacy and hatred on display in Charlottesville today was the precipitator of the violence. As a society, it is incumbent upon all of us to forcefully repudiate all expressions of white supremacy, racial hatred and bigotry. Anyone familiar with the history of how white supremacy has stained our nation and our democracy can not be surprised that continued expressions of that virulent philosophy would lead to violence today. All of our nation's elected leaders, starting in the White House, have a responsibility to condemn racial hatred and the violence it encourages, and disassociate from those promoting it.
North Carolina AFL-CIO Secretary-Treasurer MaryBe McMillan :
The North Carolina State AFL-CIO condemns white supremacy. It is a tool used by those who want to divide and conquer people who would otherwise work together to secure their freedom and their fair share, which is why the labor movement is committed to addressing racism and bigotry within our own ranks and in our larger society. All of us including President Trump have a moral obligation to speak out against not only racist, fascist violence but also the racist, fascist ideology behind such violence—an ideology which thrives on silence and inaction, particularly that of white people like me. We cannot expect our black and brown brothers and sisters to both bear the burden of white supremacy and do the work of dismantling it because this is our fight too and together we can triumph over hatred. Lest we forget, when Adolf Hitler was consolidating his power, Nazis specifically came after union members because they feared the inclusiveness and collective strength of a united labor movement. By building a broad, inclusive movement, we can overcome the forces trying to divide us, and that is what we intend to do.
Pride At Work Co-Presidents Shellea Allen and Tim Schlittner and Executive Director Jerame Davis:
Pride at Work stands firmly against all forms of white supremacy and terrorism in this country and around the world. What we saw on Saturday in Charlottesville was a horrible act of bigotry and hate and a reminder that we have a lot of work to dismantle all forms of white supremacy that are still present today.

We cannot achieve racial justice without economic justice. Pride at Work and our allies will never stop standing up to hate. We will confront evil wherever it exists. Our hearts are with the community of Charlottesville and the family of Heather D. Heyer who died standing up for what she believed in. The best way to honor her memory is to never stop organizing for economic, racial and social justice.
UAW President Dennis Williams:
The events in Charlottesville this weekend will long serve as a reminder that time has a way of washing away the tears of the past where hate bullied many Americans, both in society and in the workplace through intolerance.

The UAW condemns the hate and intolerance of the alt-right groups that led to such violence in Charlottesville. Every woman and every man is equal in their civil and workplace rights regardless of race, gender, religion or sexual orientation in society and in the workplace. We cannot take our freedom for granted, and we cannot forget the lessons that history forged through the sacrifice of many brave Americans in our military, in labor and in our civil rights struggles to secure those freedoms.
Union Veterans Council Executive Director Will Attig:
The actions of domestic terrorists in Charlottesville, Va., wearing U.S. military uniforms and defaced American flags spits in the face of every true American patriot who has fought or died for the better values of our nation.

The graves on the hallowed fields of Arlington do not check to see if you are white, black, Hispanic, Jewish or Catholic. They only care about one thing, did you serve your country?

We denounce white supremacy, Neo-Nazis, fascism and white nationalism. It's un-American. It's hateful, dangerous and dishonors hundreds of thousands of Americans who fought and died in World War II. And it has no place in our country.
Retail, Wholesale and Department Store Union (RWDSU):
The white nationalism on display this weekend has no place in our communities, our politics or our workplaces. It is our responsibility to stand up against the hateful ideologies that have become alarmingly mainstream over the past year.   My thoughts and prayers are with victims of these acts of terrorist violence in Charlottesville, Va.