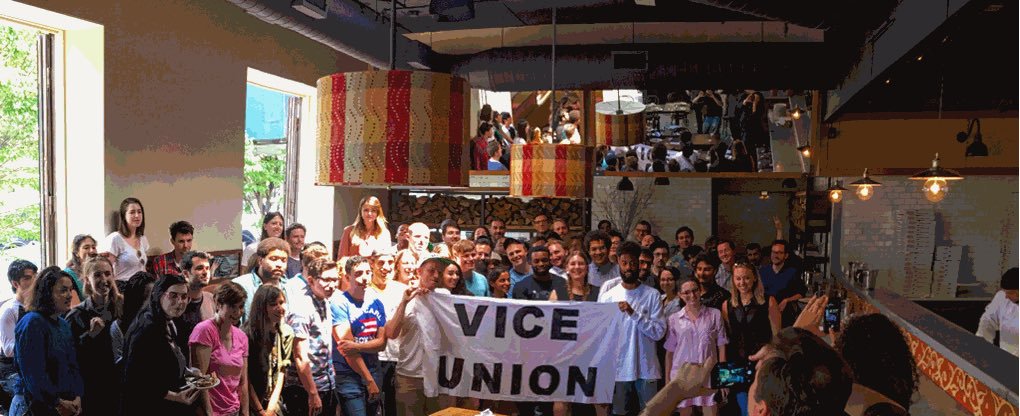 Workers for Vice Media voted this week to come together in union, with content creators joining the Writers Guild of America, East, (WGAE) and post-production employees becoming members of the Motion Picture Editors Guild (MPEG), an affiliate of the Theatrical Stage Employees (IATSE). Vice said it will recognize the unions after a third-party card-check confirmed that the majority of the employees in each unit voted to unionize.
Some 430 staff and freelance employees working on video content for VICE.com, the Viceland cable channel and Vice programming on HBO will now have a stronger voice in the workplace.
WGAE Executive Director Lowell Peterson said:
VICE is at the forward edge of the media industry's transformation. The WGAE knows it is essential for people who create content in this dynamic environment to have a seat at the table as the way the work is done—the way the content is made and distributed—continues to change. We have built a constructive relationship with VICE management and applaud the company for continuing to respect the right of its employees to engage in collective bargaining
MPEG President Alan Heim said:
We're proud to welcome aboard the post-production professionals whose talents and hard work helped build VICE into the news and entertainment juggernaut it has become. These craftspeople on the cutting edge of our industry have made clear that the future of work in this business is one in which traditional union values of mutual aid and solidarity remain vital. We salute VICE for offering a model of how responsible employers respect their employees' desire for a voice on the job, instead of trying to squash workers' organizing efforts. And we're both proud and grateful to have arrived at today's victory in partnership with our sister unions, The Writers Guild of America, East, and SAG-AFTRA. This achievement shows what working people can accomplish together through alliances across craft and jurisdictional lines.
AFL-CIO President Richard Trumka congratulated the Vice workers: