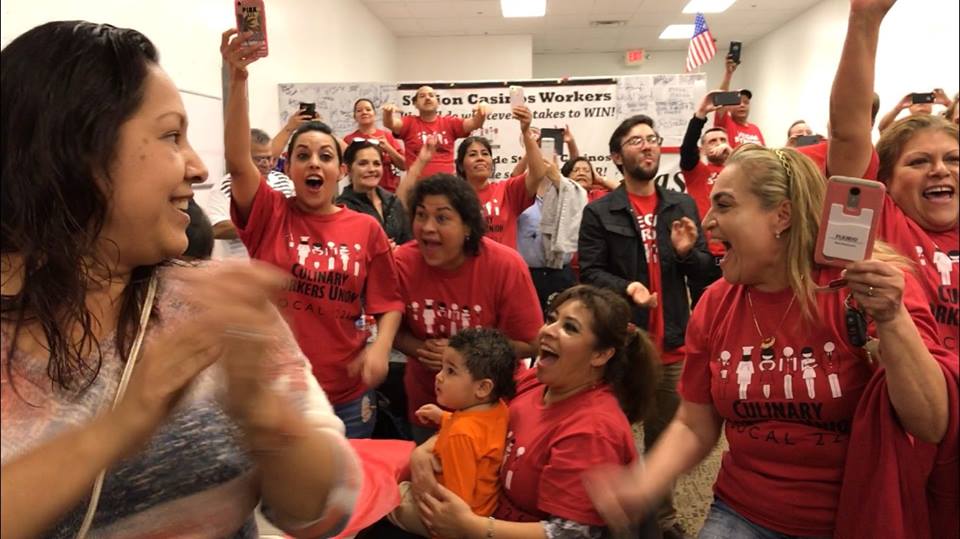 Our latest roundup of worker wins begins with a victory for Christmas tree workers in North Carolina and includes numerous examples of working people organizing, bargaining and mobilizing for a better life.
FLOC Helps Christmas Tree Workers in Wage Theft Victory: Working people at a Christmas tree farm in North Carolina got some cheerful news when the wage theft case they pursued with the help of the Farm Labor Organizing Committee (FLOC) led to a $350,000 settlement with the company.
Green Valley Ranch Continues Organizing Trend at Station Casinos: Green Valley Ranch became the fourth Station Casinos-operated property where workers voted to join together in union since 2015. More than 900 workers will be represented by the Culinary Workers Union Local 226 and Bartenders Union Local 165, Nevada affiliates of UNITE HERE.
D.C. Streetcar Workers Win First Contract: After nearly two years, D.C. Streetcar workers have voted for representation by Amalgamated Transit Union (ATU) Local 689. The streetcar's private operators, The Midtown and RATP Dev North America, signed a deal that includes competitive wages and affordable health insurance.
Retired Mine Workers Stave Off Another Attack on Health Care from CONSOL: Some 3,400 retired miners represented by Mine Workers (UMWA) and their dependents and widows will continue to receive health care after a federal appeals court rejected an attempt by Consol Energy to stop paying retiree benefits, despite a promise to pay them in a collective bargaining agreement.
Nurses Continue to Organize Across the Country: National Nurses United (NNU) and their affiliates have continued a long string of victorious organizing campaigns by successfully organizing at Maine Coast Memorial Hospital and by ratifying a new contract at Rideout Regional Medical Center in California.
Omni Air International Flight Attendants Ratify Their First Contract: Flight Attendants at Omni Air International (represented by the Association of Flight Attendants-CWA [AFA-CWA]), voted by 78% to ratify their first contract. The new deal includes immediate pay raises, defined schedules and work rules, and increased job security. 
New York Papa John's Workers Win Back Wages: New York Attorney General Eric Schneiderman announced a settlement with the franchise owner of three Papa John's Pizza franchise stores in Brooklyn. The owner will pay nearly $172,000 to more than 100 workers after the stores were found to have violated minimum wage and overtime laws, as well as taking unlawful deductions from workers' wages.
Firefighters Finally Secure Congressional Reauthorization of Safety Programs: Two programs designed to maintain the safety of firefighters, Assistance to Firefighters (AFG) and Staffing for Adequate Fire and Emergency Response (SAFER), were reauthorized as the last act of legislative business for 2017. The two programs will be each funded with $750 million, providing critical resources for firefighters in every state.
Hard Rock Las Vegas Workers Reach Settlement: After the Culinary Workers Union filed an unfair labor practice charge with the National Labor Relations Board, alleging that the company had committed federal labor law violations, Hard Rock reached a settlement with the workers.
More Than 350 Emissions Workers in Michigan to Join UAW: After a vicious anti-union campaign by management, 366 working people at the Eberspächer emissions plant in Brighton, Michigan, will be joining UAW. The factory supplies emissions systems to CNH Industrial, Freightliner, Mack, Detroit Diesel and Volvo Trucks.