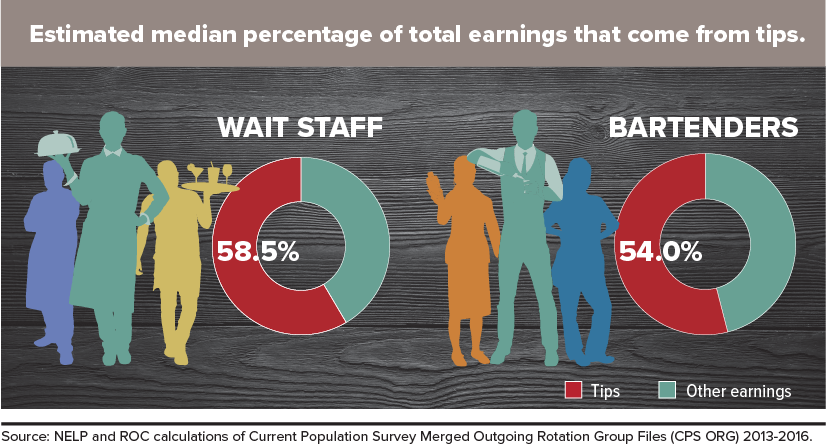 The Donald Trump Labor Department is proposing a rule change that would mean that restaurant servers and bartenders could lose a large portion of their earnings. The rule would overturn one put in place by the Barack Obama administration initiated, which prevents workers in tipped industries from having their tips taken by their employers. Under the new rule, business owners could pay their wait staff and bartenders as little as $7.25 per hour and keep all tips above that amount without having to tell customers what happened.
A new study from the Restaurant Opportunities Centers United and the National Employment Law Project shows that waiters and bartenders earn more in tips than they do from their base hourly wage. The median share of hourly earnings they make from tips makes up nearly 59% of waitstaff earnings and 54% of bartenders' earnings. Allowing employers to take much or all of that tipped income would be a major blow to many working in the restaurant and bar industry.
Workers in these fields are already poorly compensated. A recent study by the Economic Policy Institute and the University of California, Berkeley, found that "median hourly earnings for waiters and bartenders are a meager $10.11 per hour, including tips. That is just $2.86 above the current federal wage floor and far below what workers throughout the country need to make ends meet."
While proponents of the change suggest that businesses might use the tips to give workers more hours or to subsidize non-tipped employees, but with no requirement for such use of the tipped wages, employers could use them in any way they see fit. EPI analysis found that the new rule would transfer $5.8 billion from workers to employers.
Read the full report.