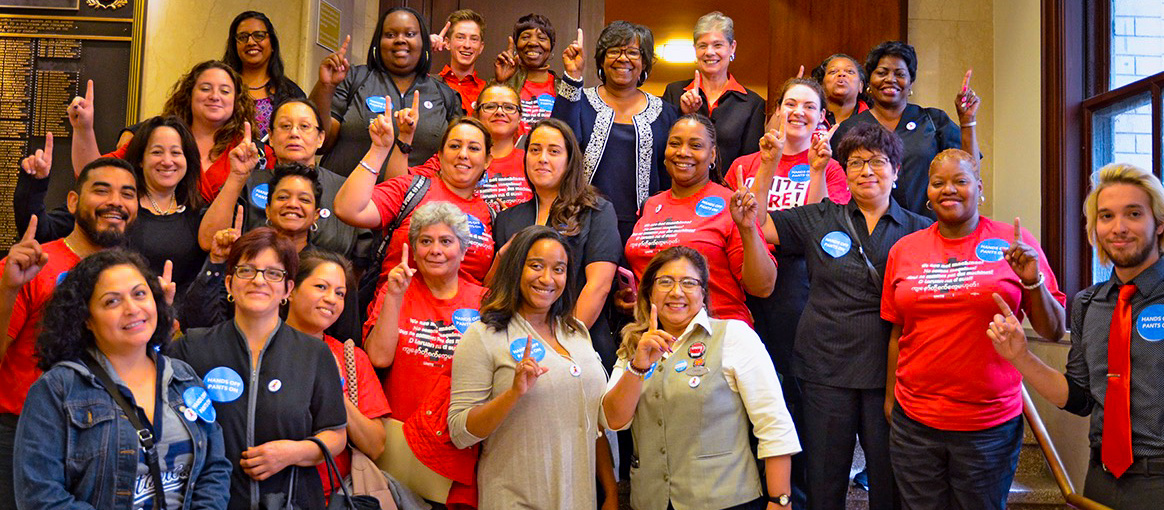 As the #MeToo movement surges across the nation, working women are finding power in their union to speak out and fight back against sexual harassment and assault on the job. In the hospitality industry, housekeepers have been pursuing protections for years, and their union, UNITE HERE, has been shedding light on their struggle.
UNITE HERE surveyed hotel workers in several cities around the country and found that sexual harassment and assault are a pervasive problem. There is a clear power imbalance between men who pay for hotel rooms and the women, often immigrants or women of color, who clean their rooms alone. In Chicago, the survey found that 58% of housekeepers had been sexually harassed by a guest, and they've found similar results around the country.
Several hotel workers were featured as Silence Breakers for Time magazine's 2017 Person of the Year. "I and our union are long in awe of the courage of our hotel housekeepers, cocktail servers, bartenders, waitresses and many more members in speaking out against the sexual harassment and assault that is too prevalent in the hospitality industry. The courage of our union workers in speaking out is resulting in changed policies across our industry that can transform lives," said D. Taylor, president of UNITE HERE.
As hotel workers have spoken up and told their stories, UNITE HERE has fought for protections. Since 2013, all unionized hotels in New York City—hundreds across the city—have equipped housekeepers with panic buttons to summon help. In Washington, D.C., more than 30 union hotels have introduced panic buttons. Working alone where it's difficult to hear calls for help, housekeepers say these panic buttons make them feel safer.
In 2016, Seattle voters passed an initiative championed by UNITE HERE Local 8 which contained requirements that hotels provide panic buttons to workers, record workers' reports of harassment and assault by hotel guests, and reassign workers away from problem guests or ban guests when appropriate. The hotel industry has mounted a legal challenge to the new law to maintain their power and silence the women who work for them, but the labor movement continues to fight back and tell the Seattle Hotel Association to protect their employees.
In October 2017, hotel workers secured a major victory when the Chicago City Council passed the "Hands Off, Pants On" ordinance, thanks to a massive campaign by the Chicago Federation of Labor and UNITE HERE Local 1. The legislation mandates that housekeepers, in both union and nonunion hotels, be given panic buttons so they can alert hotel security when they feel threatened and prohibits hotel employers from retaliating against a hotel worker for reporting sexual harassment or assault by a guest.
On the victory, Chicago Federation of Labor President Jorge Ramirez said: "This is a significant step forward for the organized and those we intend to organize in the fight against sexual harassment and assault in the workplace. Unfortunately, it is a step in only one industry. As we have seen in our national news, there is more work to be done to protect workers across all industries. Every day, the labor movement fights for every worker's right to a safe and secure work environment."
In California, lawmakers have recently proposed a law requiring hotels to provide housekeepers with panic buttons and impose a three-year ban for any guest accused of violence or sexual harassment against an employee and keep a list of those accusations for five years. If it passes, California would be the first state in the nation to have a statewide law protecting hotel workers from sexual harassment and assault.
Working women have been emboldened by the #MeToo movement and will not be ignored. As they continue to come forward and tell their stories, the union movement will remain committed to believing women and empowering them to fight for protections in the workplace.