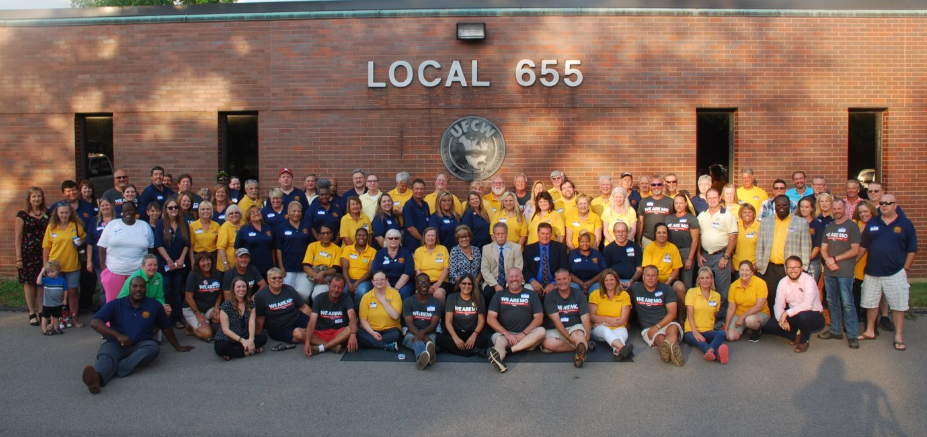 When working Missourians overwhelmingly defeated "right to work" in August, they landed a gut punch to corporate interests that reverberated across the country.
The New York Times declared that unions have the wind at our back. The Wall Street Journal warned CEOs that unions are on the attack.
They were right. But our work didn't end on election night. As United Food and Commercial Workers (UFCW) President Marc Perrone recently wrote, "At some point soon, America's hardworking families will cast politics aside and say enough is enough with the economic struggles they have had to endure."
Just weeks later, unions in Missouri are capitalizing on momentum from the landslide victory, which captured more than two-thirds of the vote.
Members of UFCW Local 655 played an integral part in a field program that visited 1,000 worksites, knocked on 800,000 doors and dialed 1 million phones. Now, Local 655 President David Cook is mobilizing those members for the political and organizing battles ahead.
"The upside of the Prop A fight is that it gave us an opportunity to be conscious of who we're seeing a lot—who's really getting involved," said Local 655 Communications Director Collin Reischman. "Now, we've got a great group of people to mobilize when we want to take an action."
After identifying key volunteers in the months-long campaign, Local 655 has compiled a list of hundreds of motivated members eager to serve their union family. After leading the fight against Prop A, they are ready to step up for lobby days, labor rallies and major field efforts heading into November.
But even as member excitement grows, union leaders aren't sitting on their laurels. This surge in grassroots energy comes as UFCW locals nationwide are taking steps to modernize and strengthen their member outreach.
"The minute we say, 'We know,' then we're not open for education," said UFCW Assistant National Organizing Director Miles Anderson, emphasizing the need for flexibility and openness to new ideas.
Local 655 is taking that guidance to heart—and leading the way.
"Unions need to figure the world out, or they're going to be left behind. It can't just be fliers in the workplace," said Reischman, pointing to an ambitious digitization effort spearheaded by President Cook. "Our union reps can walk into any store with an iPad and pull up that store and see who's working right now. The overarching goal was to make it so that every single member of our union signed an app because they met one of our union reps and talked to them when they signed it. The first conversation about the union should be with us—not with the company."
Reischman offered some simple advice to other locals: Always be willing to evolve, and don't be afraid to try something new.
"You're going to try some new stuff, and occasionally it's going to fail. And that's OK. Just try the new thing."