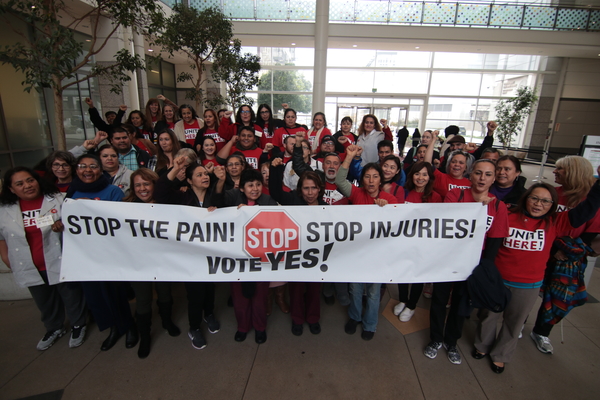 Our latest roundup of worker wins begins with poultry workers coming together to preserve safe line speeds and includes numerous examples of working people organizing, bargaining and mobilizing for a better life.
Poultry Workers Defeat Dangerous Speed-Up Proposal: The National Chicken Council submitted a proposal to the USDA to increase the legally allowable speed that working people on poultry lines can be held to. Across the South, members of the Retail, Wholesale and Department Store Union (RWDSU/UFCW) leafletted workplaces, called other members and went door to door to defeat the proposal, which would have put poultry workers and the general public at increased risk.
Micro-Clean Workers Join SMART After Long Battle: Workers at Micro-Clean, a cleanroom certification company, finally won representation and a union contract with International Association of Sheet Metal, Air, Rail and Transportation Workers (SMART) Local 19 after an 18-year battle. Employees at Micro-Clean, who work around some of the most dangerous chemical and biological hazards possible, succeeded in winning improved safety and better pay and benefits.
AT&T Wireless Workers Set Precedent for Wireless Industry: After a contentious battle that included the largest national retail strike in U.S. history, AT&T Wireless workers approved a contract that sets a new standard for the wireless industry. The contract covers more than 21,000 members and rolls back the offshoring and outsourcing of jobs at the company.
California Hospitality Workers Win Safety and Health Upgrade: After six years, hospitality workers have finally won improvements to their workplace safety, as Cal/OSHA approved new rules. The rules are designed to lessen the dangers of common injuries and experiences hotel housekeepers commonly experience and reduce sexual harassment and assault.
Massachusetts Bus Workers Save Jobs with New Contract: Working people at the Massachusetts Bay Transportation Authority, represented by Machinists (IAM) Local 264, voted to ratify an agreement with management that will last through 2021. The new contract ensures that all bus maintenance facilities will remain public, after a proposal suggested privatizing up to 20% of existing jobs. The proposal also will increase wages, maintain fleet size, health benefits and pensions.
Albany Hotel Workers Win Fair Contract: After a battle that included a boycott and picket lines, hotel workers in Albany, New York, have secured a fair contract that safeguards important benefits for their members and families.
California Nurses Continue String of Organizing Victories: Nurses in San Bernardino and Ventura County, California, became the latest successes in a string of organizing wins for the California Nurses Association/NNOC and National Nurses United (NNU). The agreements reached by the nurses, who work at multiple hospitals, will improve patient safety and the work environment for employees.
Linden, N.J., Electrical Workers Approve Their First Contract: Members of Electrical Workers (IBEW) at the NAES co-generation plant in Linden, New Jersey, that runs six natural gas-fired turbines, approved their first union contract nine months after their vote to join together in union succeeded by one vote.
Big Win for Drivers and Tour Guides at Big Bus: Working people at Big Bus New York voted decisively in favor of their first contract with the company. Represented by Transport Workers (TWU) Local 100, the members won a contract that provides for immediate raises, improvements to health insurance and numerous other benefit gains. The contract also puts in place full due process guidelines for discipline and grievances.
Idaho Democratic Party Staff Join IBEW: The staff at the Idaho Democratic Party has joined IBEW Local 291 in Boise. Idaho's Democrats become the second state party to come together in union, after Vermont's party staff joined the United Steelworkers (USW) last year.
Staff Earn Voluntary Recognition of Union at the Century Foundation: After a 10-month bargaining process, staff at The Century Foundation, a progressive think tank, signed their first-ever collective bargaining agreement. TCF voluntarily recognized the union last year, and management and employees worked together to reach an agreement that "recognizes the important work and critical value of TCF's staff and builds on a mutual deep commitment to collective bargaining rights, fairness, and respect in the workplace."
Jacobin Staff Win First Union Contract: Members of The NewsGuild of New York/CWA who work at the socialist magazine Jacobin overwhelmingly voted to ratify their first union contact at the publication. Jacobin management voluntarily recognized the union in October 2016, and the new contract is the result of a year of work between management and working people.