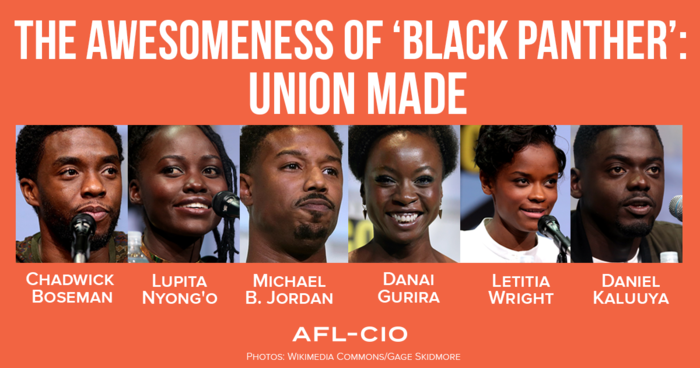 Wow, the "Black Panther" movie was awesome, wasn't it? And while we could spend hours about how great an action movie it is or how beautiful it looks or the social implications of the themes and representation of African culture, let's take a few minutes to look behind the scenes at the work it took to bring a movie like "Black Panther" to life, work done by union members.
Let's start with the cast of superb performers such as Chadwick Boseman, Lupita Nyong'o, Michael B. Jordan, Danai Gurira, Letitia Wright, Daniel Kaluuya and many others. They are among the group of 160,000 actors, announcers, broadcaster journalists, dancers, DJs, news writers, news editors, program hosts, puppeteers, recording artists, singers, stunt performers, voice-over artists and other media professionals who are members of SAG-AFTRA.
The screenplay, one of the better writing jobs ever done for a superhero movie, was written by Ryan Coogler and Joe Robert Cole, members of Writers Guild of America West, which represents thousands of writers who create content for television shows, movies, news programs, documentaries, animation and the web.
If you waited around to see the post-credits surprise that Marvel movies offer, just before the last scene starts, you might notice the Theatrical Stage Employees (IATSE) logo. That's because a wide range of jobs on a movie set are filled by IATSE members, including art directors, costume designers, make-up artists, hairstylists, studio lighting technicians, set painters and script supervisors. In other words, all the people who made one of the most beautiful films in recent memory are IATSE members. That goes for the visual images on the screen as well, as the International Cinematographers Guild is an affiliate of IATSE. So are the more than 7,200 members of the Motion Picture Editors Guild and the members of the Animation Guild who create not only animated films, but the visual effects in movies like "Black Panther," too.
Other roles on movie sets also are filled with union members—from Electrical Workers (IBEW) to the American Federation of Musicians (AFM) to Laborers (LIUNA)—everywhere you look on set, you find working people who have joined together in union to negotiate a fair return for their work. Work that entertains and informs millions.
And there is actually more. From the drivers, couriers and animal handlers of the Teamsters union to the filmmakers represented in the Directors Guild of America, the working people on a big movie set like "Black Panther" know that their collective voice not only protects their rights and their livelihood, but gives them leverage in bringing such great entertainment to the rest of the world.