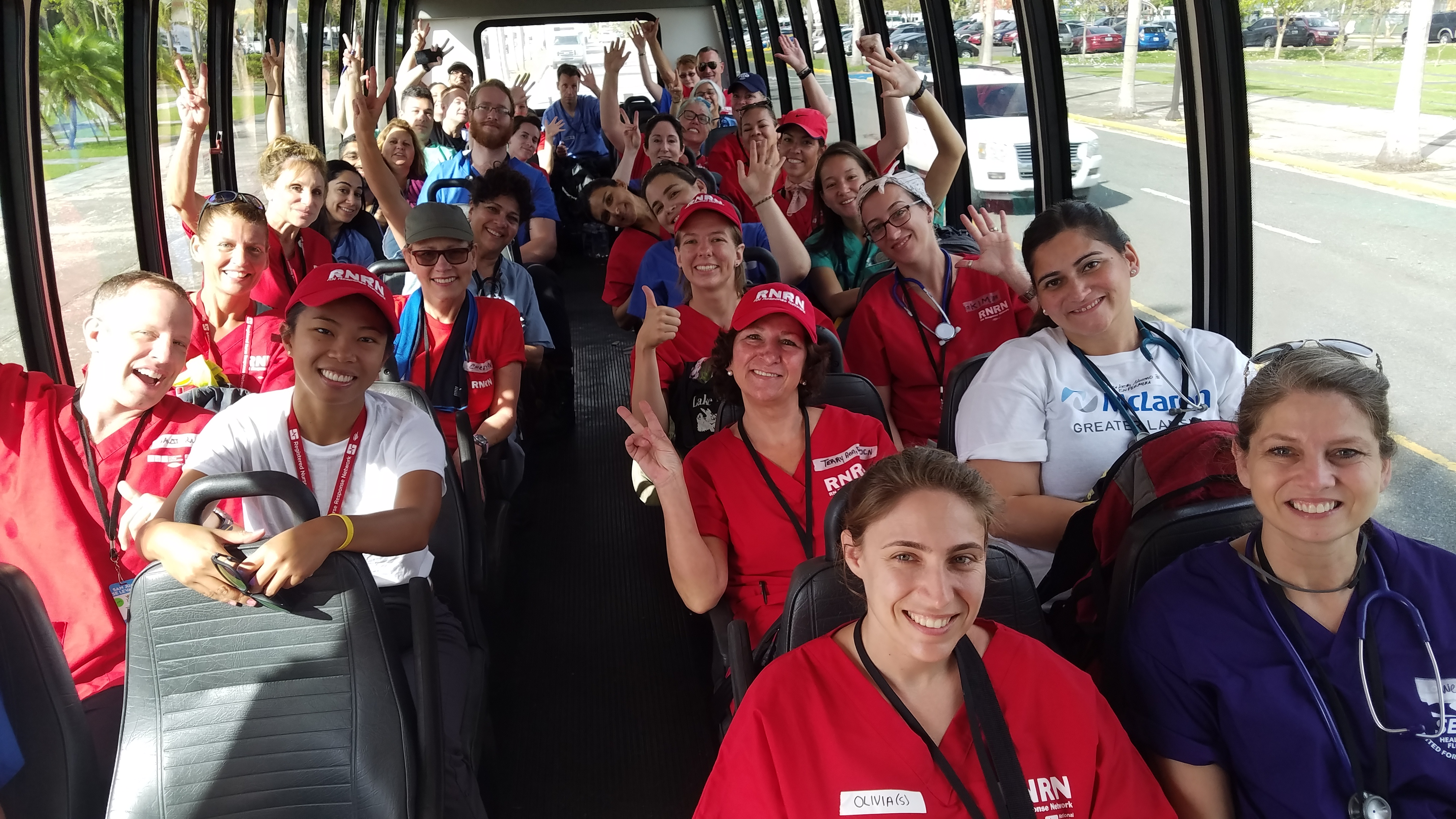 There are days in our lives that are unforgettable. They are entrenched in our minds. They follow us like perennial shadows. Six months ago, I spent five days in Puerto Rico—two weeks after Hurricane Maria devastated this Caribbean island. As I look back into this short trip, I see images and situations that have stayed with me. Memories that are a constant reminder of how much remains to be done to lift up all working families who were affected by this disaster. Here are some of these moments:
Saturday, Oct. 7—Luis Muñoz Marin Airport, Carolina, Puerto Rico
Families with small children, elderly people. All of them desperately trying to leave the island. A feeling of guilt invaded me as I stepped onto my United Airlines flight to Newark, New Jersey. Nearly 300 volunteers from different unions stayed in Puerto Rico for another two weeks, providing critical relief to people who were affected by Hurricane Maria. In the previous four days, they became my brothers and sisters.
Wednesday, Oct. 4—Baseball Stadium, San Juan, Puerto Rico
It is 4 o'clock in the morning. "Everyone up. Time to go." I overheard the voice coming from back in the locker room, still half asleep while laying down on a cot. My roommates, most of them operating engineers, dressed in a heartbeat. They were energized and looking forward to getting to work.
Less than 12 hours earlier, we arrived on a flight from Newark Airport provided by United. Buses took us to our new "home": The Hiram Bithorn Stadium.
Time flies. It took less than two weeks to organize this relief mission and to get volunteers from many unions who had valuable skills that were urgently needed in Puerto Rico—electricians, nurses, truck drivers, operating engineers, plumbers, only to name a few.
The conditions at the baseball stadium were precarious at best. We had a limited supply of food and drinking water. But at least we had electricity and spotty cell phone reception. We were the lucky ones. At the time, nearly 90% of the island didn't have any power. Only a few had access to water.
But even as we encountered these dire conditions, all volunteers were eager to go out and help. They reminded me of what the labor movement is all about: brotherhood, sisterhood and solidarity. Each union member was proud to give a hand to those most in need.      
Friday, Oct. 6—Barceloneta, Puerto Rico
It took a caravan of trucks and heavy machinery nearly three hours to reach Barceloneta, a small town less than 50 miles west of San Juan. The scenery that surrounded us was similar to a surrealist painting—trees were uprooted, all the vegetation was wiped out. Desolation. There wasn't a trace of that paradisiacal island I visited many years before on vacation.
As soon as we arrived to this town, nurses and doctors began visiting a nearby nursing home. I joined a team of truck drivers and operating engineers who were in charge of clearing a road of debris.
At a distance, I spotted a house without a roof. A tree had fallen on its balcony. The windows were broken. A couple in their late 60s came out and asked me for help. They hadn't had water or electricity for days. They said that they lost everything. I turned around in frustration, only to find more people asking me for water to drink.
On our way back, I took a bus and sat next to our health care volunteers. A nurse told me that people were sick and unnecessarily dying. A doctor from California showed me the photo of a man in his 80s. He said that he was about to die of dehydration and malnutrition.
"If we had arrived a day later, he would have died," the doctor added.
The sun was down. Total darkness surrounded us. Only a light was blinking far away. A beacon of hope, I thought.     
Tuesday, March 20, 2018
Almost six months have passed since that day. The news is not good. Nearly 10% of the island doesn't have electricity. Puerto Ricans, who are U.S. citizens, have no other option than to leave their homes and move to the "mainland." More than 1,000 people have died from causes related to the hurricane. Unnecessary deaths, as the nurse told me back in October. She was right. Most of those deaths were preventable.
And to add insult to injury, instead of pushing for policies that would provide Puerto Rico relief, there are talks of privatizing schools and lowering standards for teachers and other working people.
Today, I look back and think of all the people who I met during all those days in Puerto Rico. It is impossible not to wonder what happened to all of them. How is the couple in Barceloneta who lost everything doing? Is the man at the retirement home whose life was saved by a volunteer still alive?
Were our volunteer efforts in vain?  
No.
Our volunteers not only repaired the electric grid and generators, restored water, cleared roads and provided critical health care, they left an impression on every person they helped. I am sure that even today, those efforts endure.
And while greedy corporations continue to take advantage and make money off of Puerto Rico's misfortune, union members are still on the ground helping their fellow Americans.
Like that light blinking during the night among the darkness, I believe that there is still hope for Puerto Rico. Our union volunteers' solidarity is proof that even in the middle of a catastrophe, goodness prevails over greed. The labor movement's constant commitment to aid our brothers and sisters, who continue to be under distress, is nothing short of heroic.
I am proud to be part of this movement. I am proud of every single woman and man who responded to the call to go to Puerto Rico.
Those days. Those unforgettable days.