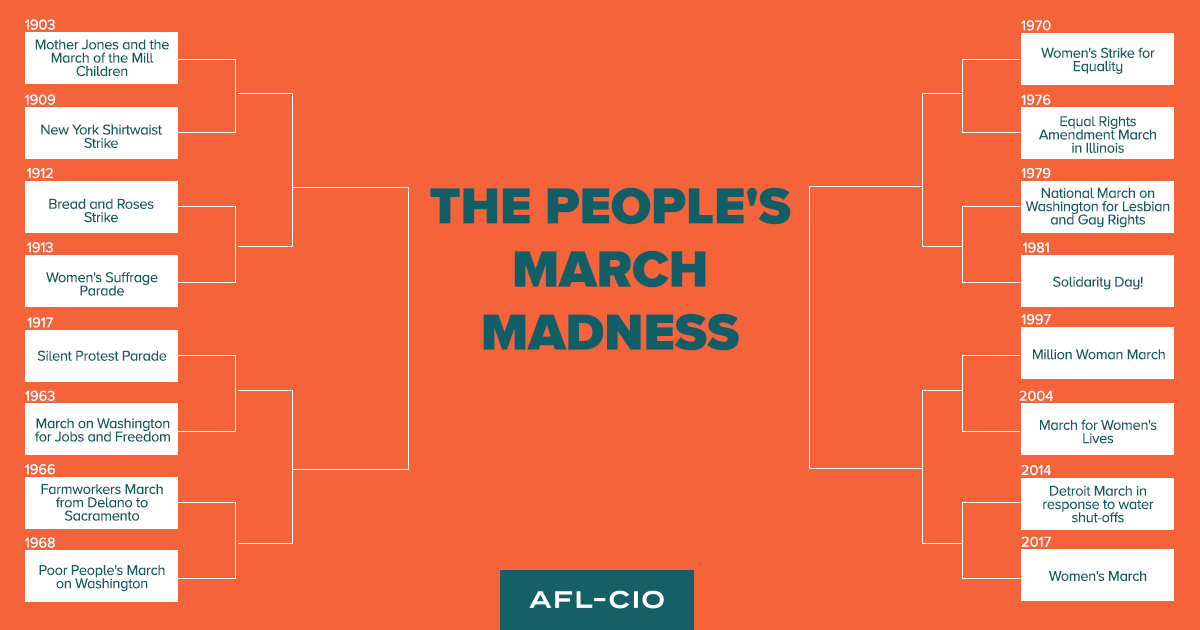 Welcome to the AFL-CIO's March Madness Sweet Sixteen! But instead of focusing on the hottest basketball teams, we're focusing on the MARCH part of March Madness. Not the month, but actual marches.
We've set up a bracket of some of the most important marches and rallies for working people in American history. When we organize and fight for our values, we win. Here are 16 times where working people came together as leaders or as supporters and allies toward the greater good. Which one is your favorite?
Here is a little bit more detail on each march, so you can choose your favorite:
New York Shirtwaist Strike (1909): Also known as the Uprising of the 20,000, the New York Shirtwaist Strike involved primarily Jewish women working in New York factories who went on strike in order to gain improved wages, safer working conditions and better work hours. Led by Clara Lemlich, the International Ladies' Garment Workers' Union and the National Women's Trade Union League of America, the strike was the largest by female workers up to that point. While successful for the New York working women, industry-wide safety problems were exposed a year later when the Triangle Shirtwaist factory fire killed 146 garment workers.
Bread and Roses Strike (1912): After the Massachusetts Legislature cut the workweek by two hours, mill owners in Lawrence sought to cut working people's take-home pay. The Industrial Workers of the World mill workers launched a strike that was met with hostility, from the banning of parades and outdoor rallies to troops patrolling the workers' neighborhoods. The workers refused to give up, however, as many of them were fighting not only for better work conditions and treatment, but for the basic bread they needed to survive. The strikers won not only a pay raise and other gains for themselves, but the new system they won led to pay increases for 150,000 New Englanders.
Mother Jones and the March of the Mill Children (1903): Mary Harris "Mother" Jones went to the Kensington section of northern Philadelphia to rally 46,000 textile workers in their demands for a reduced workweek of 55 hours and a ban on night work by women and children. The year following the march, the National Child Labor Committee formed and Pennsylvania toughened its child labor laws the year after that.
Women's Suffrage Parade (1913): The day before Woodrow Wilson's inauguration, more than 5,000 women came to Washington by foot, by horseback or by wagon. Among the marchers demanding women's suffrage were the incoming president's niece. The marchers were heckled and harassed by the crowd at the time, but six years later, Congress passed the 19th Amendment, enshrining women's right to vote in the Constitution.
Silent Protest Parade (1917): After years of violence against African Americans, the East St. Louis Riot left several hundred African Americans dead and nearly 6,000 homeless, inspiring the NAACP and other organizations to launch the Silent Protest Parade. More than 10,000 women, men and children marched silently through the streets of New York. 
March on Washington for Jobs and Freedom (1963): The largest civil rights march of its era, more than 250,000 descended on the National Mall in support of civil and economic rights for African Americans. Labor leaders such as A. Philip Randolph were key in planning and executing the event.
Farmworkers March from Delano to Sacramento (1966): In protest of poor pay and working conditions, 75 Latino and Filipino grape workers led by César Chávez marched 340 miles from Delano, California, to the state Capitol. After a 25-day trek, they were greeted by 10,000 supporters. The strike lasted five years, ending in the creation of the United Farm Workers and the first contract between growers and farmworkers in U.S. history.
Poor People's March on Washington (1968): In the wake of Martin Luther King Jr.'s assassination, 3,000 people marched on the National Mall and set up a protest camp for six weeks. The marched called for improved economic and human rights for poor Americans. Numerous government programs to assist the poor were created as a result.
Women's Strike for Equality (1970): On the 50th anniversary of the passage of the 19th Amendment, more than 20,000 women marched in support of equal opportunity in the workforce, and political and social equality.
Equal Rights Amendment March in Illinois (1976): More than 16,000 protesters marched on Springfield, Illinois, calling on the state to ratify the Equal Rights Amendment. Numerous marches would follow over the years, and they were one of the defining efforts of the women's movement.
National March on Washington for Lesbian and Gay Rights (1979): More than 100,000 people marched on Washington, D.C., in support of civil and economic rights for LGBTQ Americans. In addition to a call for comprehensive legislation, the marchers called for an executive order banning discrimination based on sexual orientation in the federal government, military and government contracting.
Solidarity Day! (1981): A diverse crowd of more than 260,000 marched in opposition to cuts to programs that support working people. Ronald Reagan's cuts were aimed at everything from Social Security to occupational safety laws.
Million Woman March (1997): More than a million African American women marched through the streets of Philadelphia in support of improved civil, political and economic rights.
March for Women's Lives (2004): More than a million women marched on Washington, D.C., in support of women's reproductive freedom.
Detroit March in response to water shut-offs (2014): Detroit residents, union members and progressive activists, led by the Incredible Hulk himself, Mark Ruffalo, marched through the streets of Detroit in response to the water utility shutting off water for thousands of poor residents.
Women's March (2017): Following the inauguration of Donald Trump, more than 4.2 million women and men held rallies across the nation. The marchers protested the proposed policies of the administration and Trump's personal mistreatment of women.